From IT To IMBA ---- IMBA senior student Christian Muenchow talks about his journey on the program
Publisher : MBA Office Nov.06,2015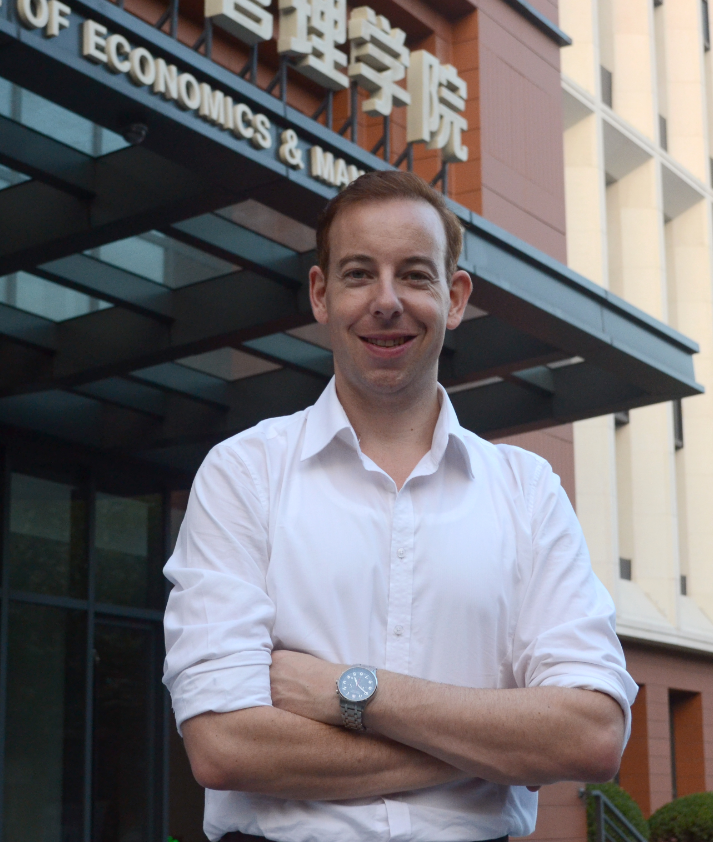 Resource: That's Shanghai Nov.2015 P25
Jounalist: Zoey Zha
Why did you decide to further study management?
The root cause is the curiosity. Before I came here, I was working in Switzerland as Head of IT and Quality management. It was an exciting job with stable income. But, coming from Information Technology, I always asked myself if I could create even more value, if I would know more about the latest best-practices of business administration topics like strategy, finance, supply chain and so on. I always felt like I want to understand more about the whole picture and am looking for development potentials. Further, I had the dream to work more internationally with people from different countries and to practice my language skills. Since the idea of the International MBA was born, it grew stronger and stronger in my mind and then I just took the right decision that brought me here.
Why does Shanghai Jiao Tong University IMBA program become your final decision?
I believe that personal growth and success is mainly reasoned by the way we are thinking. China, beside that it is global leader in terms of GDP growth, is offering very fascinating people and culture to me. This other way of thinking, acting, writing, speaking consequence in different solutions.
For example, there is a small-size store across my apartment. It's always been a shoes store, however, it turned into a store that sells household goods. They renovated it, changed the whole inventory and wrapped everything up overnight! I found this case very exciting because it'd take weeks in Germany. For me, being here is a valuable learning process. I see both, challenges, but even more opportunities by learning from each other and working out solutions together.
Shanghai is an economic spot point, logistically best situated and combines the modern world with old traditions. When I was deciding which university to choose in Shanghai, the accreditation, ranking and fees were very important for me, but as well that the program is a 2-year full-time MBA. There are institutions that are offering shorter programs, but I believe that I can reach a deeper understanding by investing this time. For these reasons, the IMBA program offered by the Antai College at Shanghai Jiao Tong University is ideal for me.
And yes, I am very satisfied. We learn a lot, have a great exchange with our classmates and international professors, while our MBA office is supporting us on our carrier path. I'm looking forward to my next step, which is finding a new challenge here in an international company.
Compare with the first year in Shanghai Jiao Tong University, what has changed in terms of school and social life?
To me, our program is packed and keeps highly motivated students really busy, even busier than I expected. I had plans to learn better Mandarin and do part-time jobs. But when the term started, I figured out that the program demands a lot of time and hard work to deeply understand and learn as much as possible, and to deliver best results in our team projects.
And situation has changed this year. We have less courses and more time for internships and to write our master thesis. Now I integrate more into Shanghai's social networks looking for internships and future opportunities. Now I have time to pick up Mandarin. Since I plan to find a job here in Shanghai, I believe learning mandarin will help me to integrate and to reach more people.
Coming from IT background, what has this program affected you as a person?
I think I became more self-confidently in certain occasions. With the knowledge I have learned from this program, I understand much better the different aspects of business and see that no longer corporate or financial issues are alien languages.
So I think my personality, in a way, has not been shifted completely, but rather, my approaching to various solutions has been improved and ways of presenting different things, which allow me to reach more people by better communication.
Apart from school life, how does Shanghai impress you?
I'm amazed of how people in Shanghai could do so many things with their mobile phone like ordering a cab or checking out which restaurant around the corner is offering the best place to go. So somehow, I'm becoming to adapt to this easy life here. I didn't realize this until went back home to Germany few weeks ago. There are handfuls of nice little cafes dot in my little town, so I decided to have my coffee and enjoy the weather while getting my tasks done with my laptop. Instead of living my ideal afternoon, I spent all the time searching for one café with WIFI!
The heartbeat of this city is so fast that no other city could compare. Speaking from a European perspective, we need to be alarmed and trying to keep up with the pace by learning from each other. The world is changing and with my IMBA at Shanghai Jiao Tong University I feel prepared to shape a part of that change.