IBLAC Business Leaders in Shanghai Jiao Tong University
Publisher : MBA Office Nov.04,2015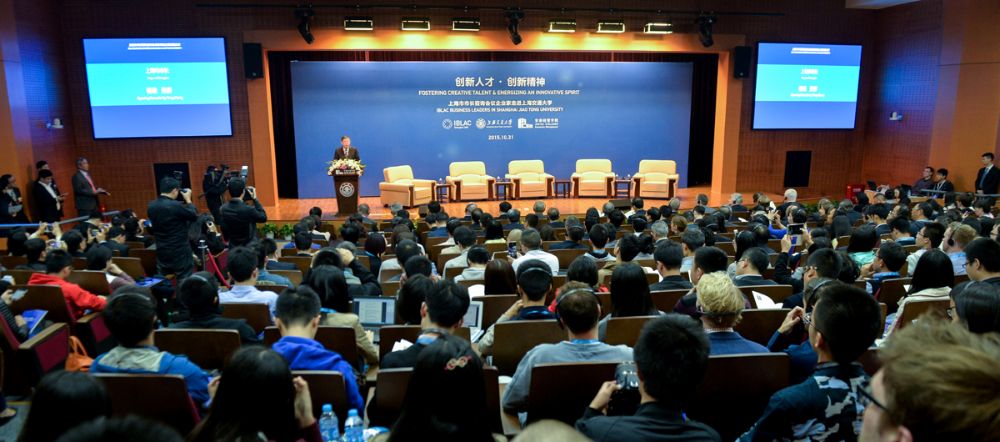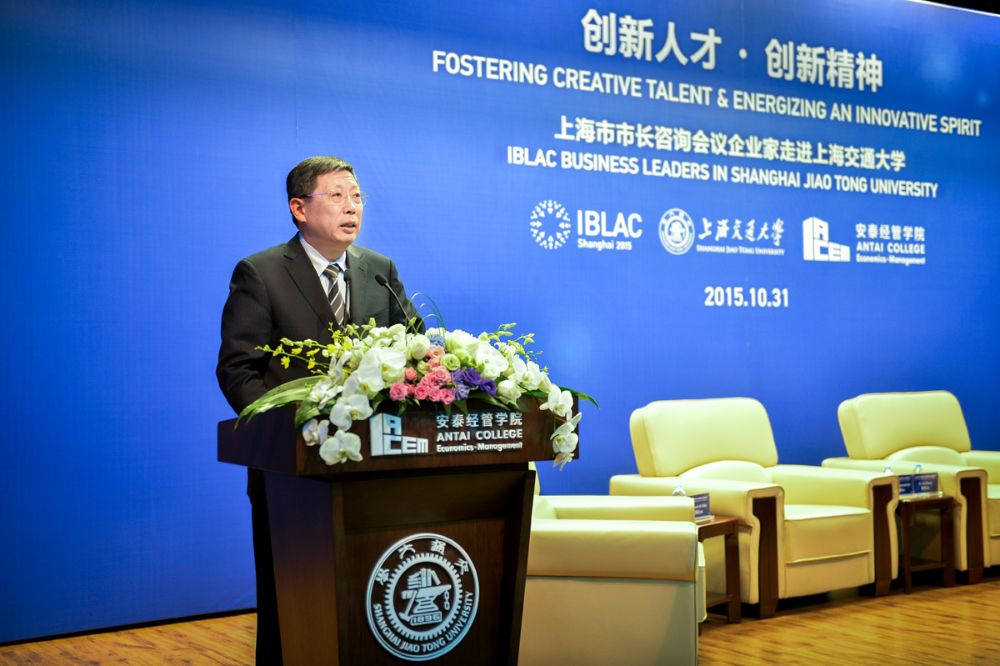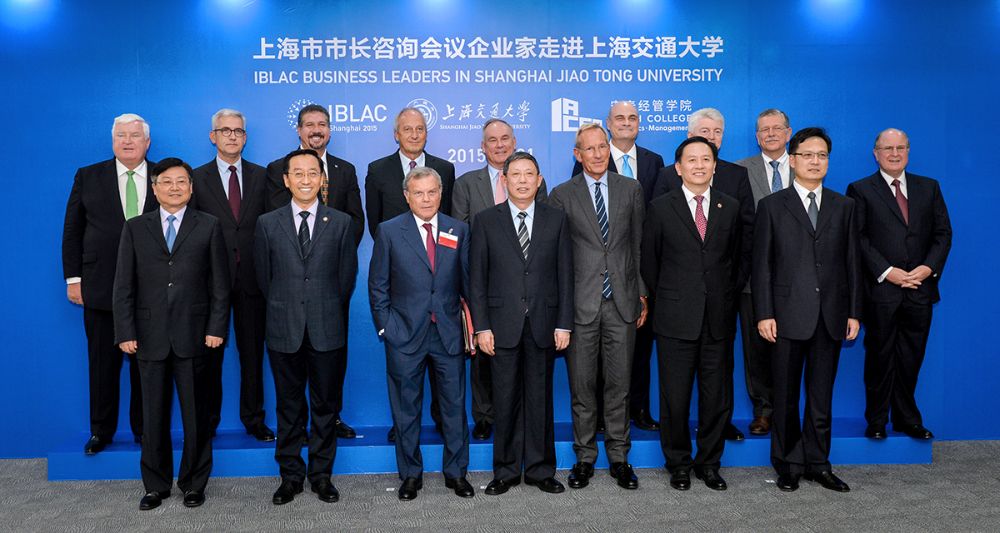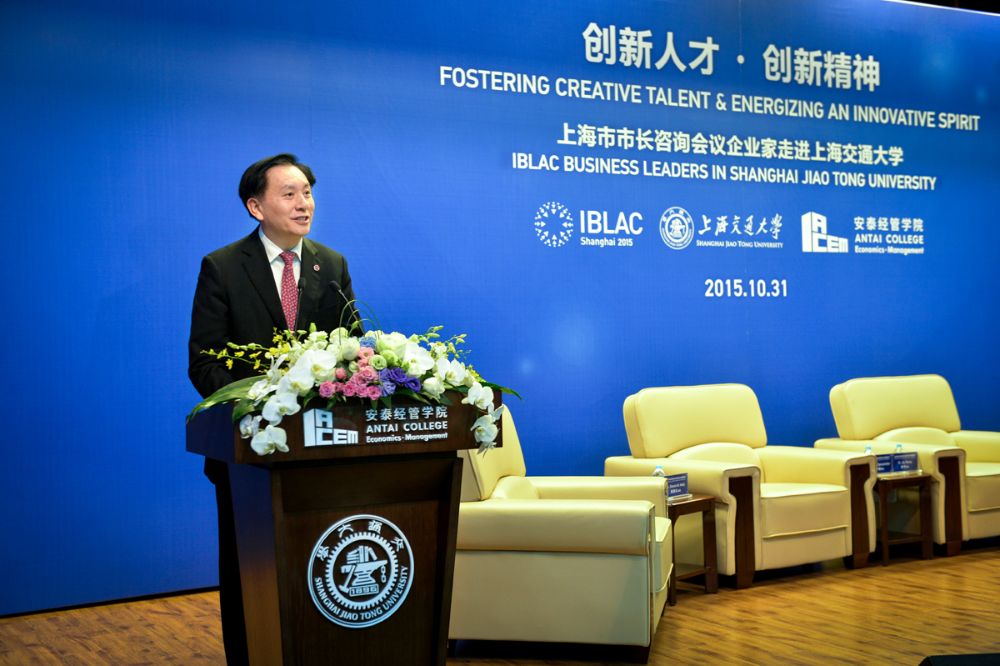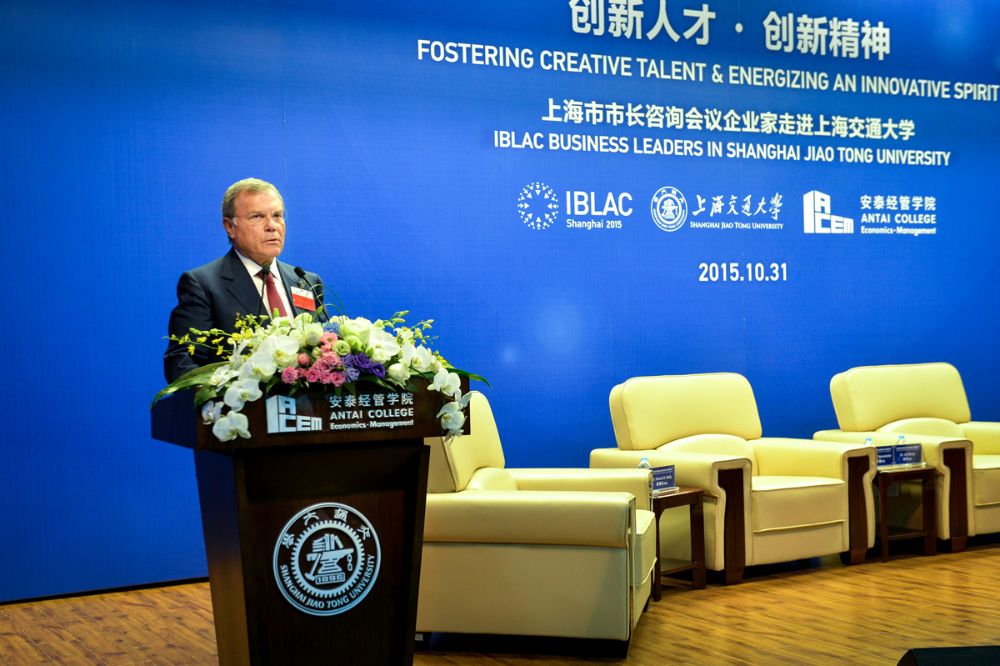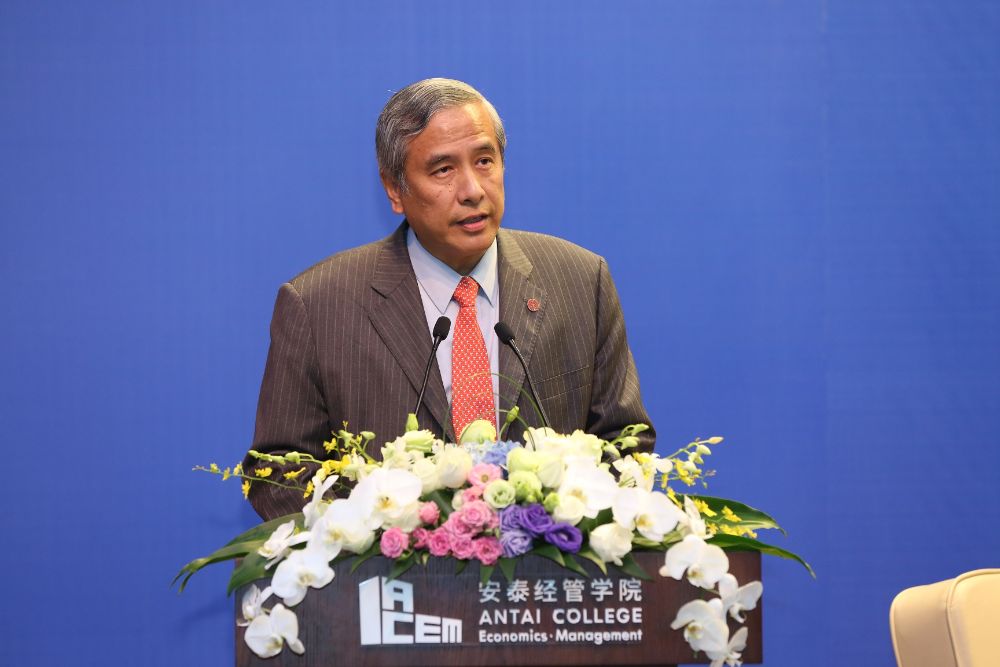 "IBLAC Business Leaders in Shanghai Jiao Tong University", as the first side-visit of IBLAC this year, was held in the auditorium of Antai College in Xuhui Campus of Shanghai Jiao Tong University on the afternoon of Oct. 31, 2015. More than ten IBLAC business members discussed with teachers and students of SJTU on innovative talents and innovative spirit. Yang Xiong, Mayor of Shanghai, Sir. Martin Sorrell, WPP CEO and other twelve IBLAC members, Jiang Sixian, Deputy Director of Shanghai Municipal People's Congress and Party Secretary of Shanghai Jiao Tong University, Zhang Jie, President, Guo Xinli, Executive Deputy Party Secretary, representatives of Shanghai Municipal People's Government and relevant commissions, offices and bureaus, IBLAC business representatives as well as teachers and students of SJTU, over 300 people in total, attended the event. The event was hosted by Zhou Lin, Dean of Antai College.
Yang Xiong pointed out in his speech that, in the 27 years since the establishment of IBLAC, international business leaders have been brainstorming for Shanghai and contributed valuable wisdom and strength to the development of Shanghai. Innovation is an inexhaustible motive force of urban development and social progress. Shanghai has always attached great importance to innovation, particularly in the face of important opportunities provided by a new round of technological revolution and industrial transformation in the world. Shanghai is actively promoting overall innovation centered around scientific and technological innovation, focusing on the reconstruction of urban development momentum, stimulating innovation and creativity of the whole society, and accelerating the march toward a technological innovation center with global influence. Yang Xiong stated that the cause of innovation requires innovative spirit and calls for creative talents. University is a cradle to cultivate the spirit of innovation as well as a base to develop creative talents. This year, IBLAC created the form of side-visit by increasing the campus event for international business leaders, inviting some IBLAC members and guests to discuss with teachers and students of Jiao Tong University on "creative talents" and "innovative sprit", enabling everyone to unleash the sparks of wisdom in face-to-face interactions. The event not only fully reflected the attention and support of international entrepreneurs on the innovation and entrepreneurship of students, but also further enhanced the public participation and social influence of IBLAC.
Jiang Sixian expressed in his speech his gratitude and welcome for choosing Shanghai Jiao Tong University to host IBLAC's first side-visit. Jiang Sixian said that Shanghai Jiao Tong University, which will celebrate its 120th anniversary, is one of the most time-honored institutions of higher education in China. Standing at the fore front of global science and technology, and meeting major national strategic needs and future industry development, Shanghai Jiao Tong University has always been committed to promoting human health and to leading future industry development, as well as been dedicated to the cultivation of creative talents. By adhering to the university management conception of first-class universities interacting and coexisting with world cities, Shanghai Jiao Tong University is bound to make due contribution to the establishment of the science and technology innovation center in Shanghai with global influence. How to develop creative talents and how to construct an innovative ecosystem are all topics that the whole society cares about. He hoped the event would become a new platform for communication and dialogue between entrepreneurs and college students, and achieve fruitful results.
Sir. Martin Sorrell, IBLAC chairman and WPP CEO, said in his speech that he was very happy to explore the spirit of innovation with everyone. He believed that IBLAC's visit to Shanghai Jiao Tong University would be an opportunity to exchange with future leaders of Shanghai and China. He expressed his hope to inspire everyone through the forum and to explore how to cultivate innovative talents in a better way. He hoped to create a spirit of innovation, a culture of innovation and a spirit of collaboration and to really put them into practice.
How to cultivate creative talents? How to foster the spirit of innovation? Guests exchanged ideas around the themes of "Demand and Training of Innovative Talents" and "Innovative Spirits and Culture", sharing successful and development experiences of businesses, and talking about the perceptions and experiences in talents and innovation. Mr. Dennis M. Nally, Global Chairman of PwC, was invited as the moderator.
Dr. Ulrich Spiesshofer, President and CEO of ABB Group, said that ABB Group had a history of 124 years, and it would not survive without innovation, as innovation had been the gene and symbol of ABB. The company spends about US$1.5 billion each year into research and development, and all employees are required to hold the banner of innovation, making innovations every day and going in front.
Mr. Mark Weinberger, Global Chairman and CEO of Ernst & Young, said that innovation could be rewarded. In fact, good ideas often come out, but the difficult part is to convert good ideas into value and to implement and execute them. He believed that it was important to learn, instead of just focusing on the things happening at the moment. Learning is to unite the diversified team, be able to listen to the ideas of other team members, cooperate with each other, and eventually achieve collaborative innovation.
Mr. Bert De Graeve, Global Chairman of Bekaert Group, believed that cooperation was very important, as it was not true that only a part of the team members were responsible for innovation, and the other part for cooperation with customers. Each year, the company encourages employees to choose a good idea, "If your idea succeeds in the screening, you will receive financial support". Good innovative results will receive recognition and awards, which has become an incentive. Bert De Graeve stressed that innovation was very important, and so was failure, as the company needs to tolerate failures in encouraging innovation.
Zhang Jie, President of Shanghai Jiao Tong University, introduced in the forum the achievements made by Shanghai Jiao Tong University in training talents and benefiting the society with technological innovations, stressing that Chinese universities should have not only the scientific spirit, but also the humanistic spirit; innovations without the guidance of humanistic feelings will not have much significance to the human society. Shanghai Jiao Tong University emphasizes the integration of innovative spirit and humanistic feelings. In the cultivation of innovative talents, the university pays special attention to the capacity-building for students: their ability in critical thinking, asking and solving questions, knowledge integration and communication. After years of efforts, SJTU's talent training has entered a new stage.
Mr. Peter D. Hancock, President and CEO of AIG, believed that the insurance industry had survived for hundreds of years and there had been no major changes, however, in today's society, it should embrace technology and innovation as well. Peter D. Hancock pays more attention to "empathy", i.e. "thinking in other's position". He thought that the company should think from the customers' perspective. Similarly, innovation comes from collaboration between the people, and partners may be different and have different perspective and educational background, so the two sides should have a good understanding to have creative sparks. If we treat people with different backgrounds with the "empathy", we will have more cultures.
Dr. Heinrich Hiesinger, Chairman of the Executive Board of ThyssenKrupp AG, said that a business was likely to die without sustained innovation, and, regardless of technology or service, once stopped the pace of innovation, it could be "a boat sailing against the current, which must forge ahead or will be driven back". We should make intangible innovation "tangible": if the CEO attaches great importance to innovation, the team will pay attention to it too; we should also build a platform, gathering the mood within the company and enhancing communication with the outside. Heinrich Hiesinger believed that the biggest challenge was the ability to cooperate, and the most amazing achievement was often the sparks among different areas. The company should create a culture so that everyone can contribute their ideas.
Dr. Klaus Engel, Chairman of the Executive Board of Evonik Industries AG, believed that innovation was very important. A lot of outstanding work is not developed in one subject or simply in engineering, instead, they are an integration of IT, medicine, chemistry, industry and other fields. For a large project, it may need experts in various aspects for interdisciplinary collaboration, so we should build such culture.
Panelists also interacted with teachers and students of Jiao Tong University, answering questions and having in-depth exchanges around such topics as innovative talents, innovative culture, innovative development and business development.
Before the forum, some IBLAC business members visited the History Museum of Shanghai Jiao Tong University.
During the break, Dean Zhou Lin accepted the interview, and he said that the theme discussed by international business leaders, which was "Fostering Creative Talent & Energizing Innovative Spirit", also reflected an important social responsibility of Antai. Talent training is an incumbent responsibility of the business school, and in order to meet the demand of Shanghai and the world for innovative and entrepreneurial talents, Antai has added a lot of contents about innovation and entrepreneurship in its undergraduate, master and doctorial educational programs, especially in MBA and EMBA programs and supporting training programs. The China MBA Entrepreneurship Competition and EMBA Profit Model Contest have enhanced the practical ability of students and alumni in innovation and entrepreneurship by linking to global resources in practice. "Secondly, we also encourage teachers to convert more research results in the economic management area to projects really helpful to business and with more correlative results. We encourage teachers to interact with industries, and encourage professors of business school to interact with counterparts of other colleges, thus inspiring more innovations in the premise of multiple specialties. Today, during IBLAC's side-visit to Jiao Tong University, many CEOs also mentioned that a lot of innovations need collision of ideas and cooperation among talents of different backgrounds to achieve quality innovative results. This has been well proved in Jiao Tong University, a comprehensive and research-oriented university. Professors of Antai cooperated with professors of colleges of technology in building a bigger platform, and also helped them to find a better market for their scientific and technological research results. Integration and innovation will be the next big trend," said Dean Zhou Lin.
Founded in 1989 by Mr. Zhu Rongji, then Mayor of Shanghai, IBLAC convenes in every autumn since then, holding thematic discussions on one or two outstanding issues in the economic development of Shanghai, and providing consultancies and advices to Mayor of Shanghai. It now has 43 members and 7 honorable members from 16 countries, covering almost all industrial areas. As IBLAC's first new event this year, "IBLAC Business Leaders in Shanghai Jiao Tong University" was closely linked to the theme of "the establishment of the science and technology innovation center in Shanghai with global influence", focusing on "creative talent" and "innovative spirit", sharing the wisdom and perspectives of entrepreneurs, and aiming to build a platform for interaction and communication between entrepreneurs and teachers and students of universities, achieve positive interaction between schools and businesses in an innovative atmosphere, and inspire more creative wisdom and practices.