2013 China MBA Entrepreneurship Competition Kick Off in Shanghai Jiao Tong University
Publisher : MBA办公室 Apr.22,2013
Apr.14, 2013, China 11th MBA entrepreneurship competition kick off in Antai College of Economics and Management,Shanghai Jiao Tong University. All 16 teams from Antai MBA contested with each other through group presentation,Q&A, and reviewing. Finally, 9 teamsstandout above the rest. Dr Sang Lin, vice president of Huawei International Investment Co., Ltd, Mr. Fu Lijun, partner of Shenzhen ZEVC, and Mr. Li Youyang, founding partner of Newsion Venture Capital, acted as judges.
The 16 projects of this competition involved industrial products manufacturing, landscaping, medical treatment and health,TMT and modern service industry, almost one third of which have been carried out or have finished products development and will be brought to market soon.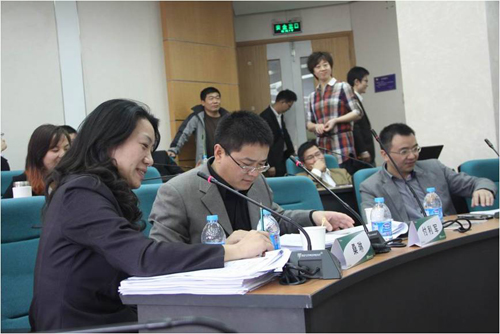 It was widely believed among the judges that the projects enjoyed quite high quality although short on quantity. It essentially reflected the rich experience and solid professional background of MBA students. Quite a lot projects won the judges' appreciate for their accurate positioning, technological innovative ability,and development potential. After the competition, the judges also discussed matters concerned with subsequent cooperation.
But judges also pointed out that some projects were lack of exhaustive market research so that their profit models were infeasible. On next stage, the committee will nominate professional tutor for the qualified team to improve their shortage.


China MBA entrepreneurship competition, the famous competition among Chinese Business College, was held under the auspices of Antai College of Economics and Management, Shanghai JiaoTong University, which has achieved successfully for 10 periods. This year, all the MBA students from HongKong, Taiwan, and China mainland are qualified. The committee set four subarenas, including north part, south part, east part and Shanghai Jiao Tong University, which were undertaken by four business colleges MBA educational centers of Tianjin University, SUN YATSEN University, Shanghai University of Finance and Economics, and Shanghai Jiao Tong University separately. At present, all the subarenas have finished the preliminary round and will launch final competition in the middle of June.
Shanghai Jiao Tong University decides to start the final in early June. At that time, only one team will have the opportunity to represent Shanghai Jiao TongUniversity to attend the national final competition. Our committee will provide the article.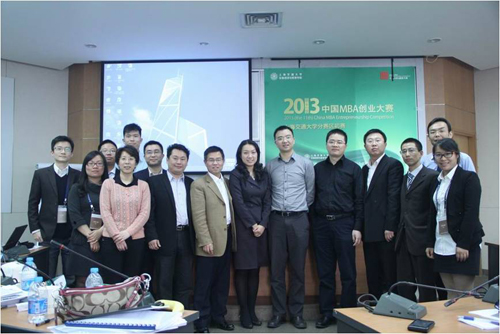 The teams and projects in China MBA entrepreneurshipcompetition, Shanghai Jiao Tong University:
Team

Class

Project

Group Leader

Shanghai

Zuannuo Precision Machinery Co., Ltd

M121209A

safe

and fastness solution to industrial bolts
Li

Shengyong
Shanghai

OCCON Advanced Material Technology Co., Ltd

M1212096

single

crystal copper

Yanggang

Shanghai Jingxiang

LandscapingEngineering Co., Ltd

M1112095

professional

maintenance of villa garden
Xu

haifeng

Shanghai Tianzhizongda Scienceand Technology Co., Ltd

M1112095

integrator

of energy consumption monitoring system
Liu

Hongwei
Shanghai

Zaoanda Dinning Co., Ltd

M1212099

distribution

of nutritional breakfast
Yang

Yongliang
Lifang

Space-time Network Technique Co., Ltd

M1112099

Hi-pin

consumption services
Ai

Zhuxiong

IvyInterior Gardening Co., Ltd

M1212091

Interior

Green Garden
Wen

Yuping
Jiuyi

Information Technology Co., Ltd

M111209A

servicing

engine of medium-sized and small enterprises growth

XieJun

Shanghai Chuboshu InformationTechnology Co., Ltd

M1212091

trainer

assistant
Hua

Jingcheng