Antai MBA Study Tour in Britain: Punting in the River of Knowledge in Cambridge
Publisher : MBA办公室 Apr.24,2013
The 47 people of Antai MBA Britain study tour arrived at London Heathrow Airport on April 11, 2013 and started their 10-day educational visit.
On the beautiful campus of Cambridge, the MBA students sit under professors from world top Business School. Their courses included "Economic Perspective and Practice of Corporate Management", "The Applications of Strategy Behavioristicsand Game Theory", "The Inspiration of Cloud Management and Global AutomobileIndustry", "Behavioral Finance and Financial Market Valuation", and some otherclassic courses. During the lectures,they had deeper comprehension of management knowledge module. Meanwhile, with their practical experiences, they discussed with professors in depth and interacted with each otheractively. They visited modern and world class Cambridge schoolrun enterprises, science park of Cambridge University, innovation center of St John's College, consulting enterprise of Cambridge etc., during which they had a more particular knowledge of scientific achievements transformation, the protection of intellectual property, and theirsustain and transformation mode.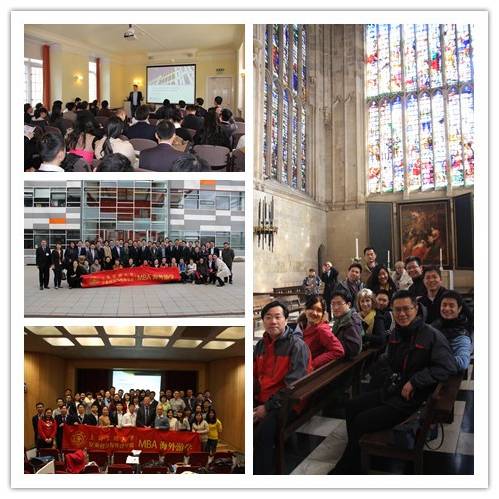 April 15, the study tour arrived at Oxfordand visited Mini Cooper's only operation factory in the world which is 100years old. Standing by the high efficientmodern assembling line, the students witnessed volume manufacturing of second generation customized Mini. The 68 seconds beat made a deep impression on the comprehensionof Operations Management. That afternoon they learnt the classic course "Strategic Management of Enterprise and Corporate Governance Practices" inOxford University.
MBA students also contacted Chinese Students & Scholars Association in Cambridge by themselves and communicative activities were also launched between Chinese masters and phd students who study in Cambridge University. They wentto Windsor Castle on weekends and went sightseeing in Residence of British Royal Family. They also paid a visit to Eton College, which enjoys great prestige in the world, King's College, Trinity College, and St John's College. They propelled the boat in Cambridge River, practicedgolf in wide British country meadow, and enjoyed formal British tea. They dressed up for high table dinner,British ball, European Symphony Cambridge Concert and etc. Those classics circumstances which only happenedin movies or novels were seen by their own eyes. The fantastic tour had been unforgettableexperience for both of the students.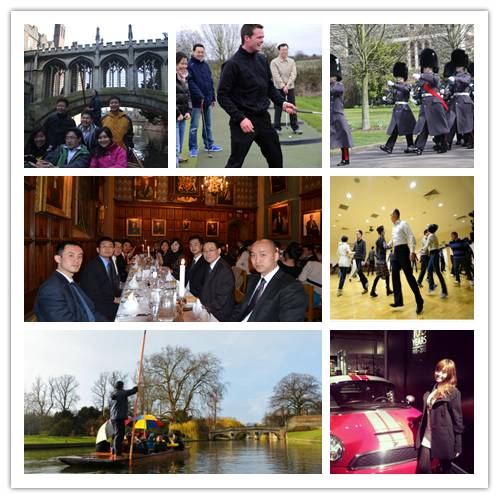 "Very quietly I take my leave
As quietly as I came here;
Quietly I wave good-bye
To the rosy clouds in the western sky."
The poem written by Xu Zhimo was engravedin the big stone in King's College, quietly accompany by the flowingriver. They shall always cherish the happy memories of their delightful friends and the study tour together. April 17, after finishing their visit in Cambridge they back to London and continued the trip.