Innovation for Future –Report of the 43th CLGO Forum
Publisher : MBA办公室 May.06,2013
The 43th SJTU MIT CLGO Forum was held in the North Building of Antai College of Economics & Management of SJTU on April 9th, 2013. In this forum, Mr. Yu Feng (William Yu) of Ingersoll Rand was invited to share with us a brilliant speech entitled "innovation for future". William Yu has served in Ingersoll Rand for 16 years. Now he is the President of Security Technology and Residential Solution, Asia Pac at Ingersoll Rand, Dean of the Safety and Security Institute at Ingersoll Rand, Expert Member at China Lean Six Sigma Club and Chairman at Shanghai Lean Six Sigma Institute. He is also the guest professor at Shanghai Jiao Tong University and Guangzhou University. He has opened his personal column on Chinese network of Harvard Business Review and Forbes and published several monographs on management studies, which all received wide acclaim.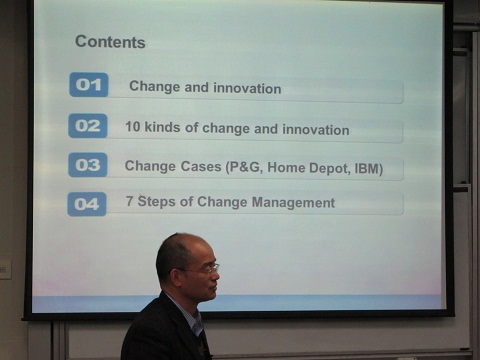 Mr. Yu introduces Multi-dimensional Innovation to the audiences

Mr. Yu received a warm welcome as he arrived in Antai College of Economics and Management. The small classroom was overwhelmed by his eloquent speech and personal charms. Many admiring students and guests even crowded the aisles and leaned against sidewalls to listen to his speech and were too immersed to realize it finished.The speech started with the cases of Shanghai Volkswagen and Nokia. From the vivid description of the cases, Mr. Yu introduced the theme of innovation and emphasized that it was the soul of a company's survival and development so that we should take a more positive attitude towards it. We were not only observers to new things but also active participants or even creators of innovation.

Mr. Yu expanded the contents of traditional innovation from "Offering" dimension (including product innovation, system innovation, service innovation) to "Delivery" dimension (including channel innovation, brand innovation, customer experience innovation), "Process" dimension (including skill process innovation, core process innovation) and "Finance" dimension (including business model innovation, internet innovation) and he proposed all together ten kinds of innovations. He analyzed the connotation of the ten innovation dimension in depth with abundant cases and pointed out that compared with traditional innovation dimension, we should pay more attention to "Delivery" and "Finance" dimension since it helped us get greater input output ratio. Then, Mr. Yu introduced "7 Steps of Innovation" and "8 Steps of Change Management" to provide specific guidance for innovation activities. During the Q&A section, Mr. Yu gave answers to every question patiently and enlightened students with deeper explanation. The lecture came to an end in the warm applause of the audience.

Mr. Yu's speech has greatly expanded the idea of the audience, and brought a lot of inspiration to students. He instructed them to reflect upon the connotation and denotation of innovation dimension. At the same time, he used many real cases to illustrate his idea with high practical significance and value. Everyone benefited a lot from his speech.

CLGO aims to educate leaders proficient in technology and management skills with global perspective and deep understanding of Chinese market environment or the world's operational field. We hope that activities like this will make more and more students interested in global operation involved and get CLGO project support and recognition from industries, benefiting each party of production, teaching and research interaction.