Antai MBA International Class Students Visited Shanghai Zizhu High-tech Industrial Development Zone
Publisher : MBA办公室 Nov.29,2013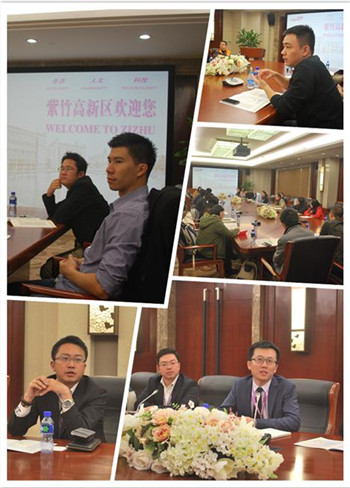 In order to increasing communications between international class students and companies, the MBA program of Shanghai Jiao Tong University Antai College of Economics & Management will organize a series of visits to companies from this term, which will cover high tech zones, manufacturing, financial industry, etc. On November 19, 2013, they visited the first station Shanghai Zizhu HighTech Industrial Development Zone(Zizhu).

17 Chinese and foreign students, led by Prof. Yu Leng, visited Zizhu and had a in depth exchange with the company leaders.Mr. Zhao Zhenyu, Zizhu's director, gave a warm reception to the visit team. The team visited company exhibition center first, and the staff introduced Zizhu's development history. Zizhu were built by 7 organizations in 2002, they are Minhang district people's government, Shanghai Jiao Tong University, Zijiang Group, Shanghai united investment company, etc. In June 2011, Zizhu was upgraded to national high tech industrial development zone by the State Council. Through 10 years' high speed development, Zizhu becomes the only national high tech industrial development zone that is mainly developed by private enterprises.

Later, the team visited the zone's R&D base and Zizhu matching area. In less than a decade, dozens of famous companies' headquarters and R&D centers located in the first phase of R&D base, including Toray, INTEL, Microsoft, Coca Cola and so on. In Zizhu matching area, the students enjoyed a taste of the river scenery.

At 3 p.m., Mr. Ma Zhigang, the general manager office's director of Zizhu, Mr. Chen Ding, the vice general manager of Shanghai Zizhu digital creative port, and Mr. Zhao Zhenyu communicated with the team on the subject of the future develpoment of private high tech industrial development zone. At first, Mr. Ma introduced the achievements and features of Zizhu. Then the students asked questions about profit model, investment attraction, business support, etc. At the meantime, the students put forward their own views about Zizhu's future development model. Last, Prof. Yu Leng thanked Zizhu for the warm reception and gave his opinion and expectation to the students. He also hoped that SJTU would have further cooperation with Zizhu in the future.

Through the visit to Zizhu, the students realized the achievements and problems of enterprise operation management in practice, and were inspired greater enthusiasm for future study.