The 2nd Global Operations Summit Held in SJTU
Publisher : MBA办公室 Dec.09,2013
The 2nd Global Operations Summit, hosted by Shanghai Jiao Tong University (SJTU) and coorganized by Antai College of Economics and Management (ACEM), was successfully convened in the lecture hall of ACEM on October 17th, 2013. Themed with "The Future of China's Intelligent Manufacturing", the summit invited a number of business leaders and academic elites to deliver keynote speeches on such topics as intelligent logistics, chances and challenges for manufacturing in the Era of Big Data, the upgrading of corporate operational strategies, and innovations of supply chain services. The summit witnessed lively discussions and communications between teachers and students of SJTU and the speakers. Prof. ZHOU Lin, Dean of ACEM, presided over the summit.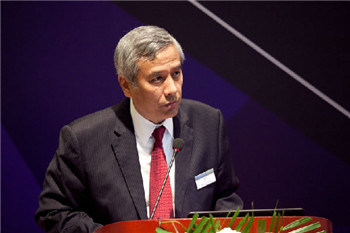 Dean ZHOU Lin began with the introduction of the backdrop of the summit. As the largest economy in transition across the globe, China is seeing its manufacturing industry developing at full speed. Here comes the issue of great concern for China's manufacturing: how to draw experience from international practices to strengthen the capability of independent innovation, upgrade the industry and further integrate the supply chain, and eventually, to "power the nation with intelligent manufacturing."

The summit consisted of two sessions, i.e. keynote speech in the morning and panel session in the afternoon. In the introductory speech on "Intelligent Manufacture in China", Ms. Marjorie Yang, Chairman of Esquel Group, shared her insights on how enterprises can leverage Internet to deliver online education, enable employees to be better-educated and inspire them to innovate.

The following speaker Mr. LUO Jun, CEO and Secretary General of Asian Manufacturing Association talked about "The Development and Industrialization of 3D Printing Technology" guiding the audience an impressive tour of the thirty years development of 3D printing technology.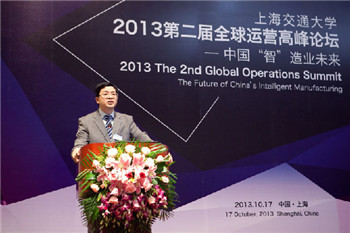 Mr. MA Jun, Vice President of Changan Automobile, depicted the outlook of smart car for the audience. In his speech on "Globalization Strategy of China's Manufacture", he pointed out the indisputable trend of smart car in the future.

The fourth speaker Mr. XU Zheng, former Vice President of GE China, highlighted the importance of "integration" in his keynote speech on "Service-Oriented Transformation of Manufacturing Enterprises".

The last keynote speaker for the morning session was Prof. David Simchi Levi, famous figure in global operations management academy. Being a professor at MIT (Massachusetts Institute of Technology) and a living legend in global supply chain, Prof. David Simchi Levi is also a faculty member of SJTUMIT China Leaders for Global Operations (CLGO) Program. He delivered a speech on "Digitalized Manufacture".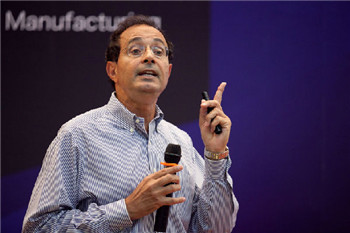 The first panel discussion in the afternoon was presided over by Prof. LU Wei, Associate Dean of ACEM, SJTU. A group of prestigious guests were present, including Dr. XU Mingqiang, Chief Architect of Windows Azure at Microsoft Asia Pacific R&D Group, Ms. CHENG Junpei, General Manager of Sinopharm Logistics, Prof. WAN Guohua, Head of Department of Management Science and Director of DBA of ACEM SJTU, and Ms. Charla Serbent, Executive Director, Dell Worldwide Procurement. They discussed passionately on "Chances and Challenges in the Era of Big Data".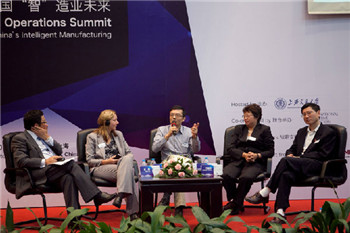 The second panel discussion was themed with "Innovation of Intelligent Manufacturing" and chaired by Dr. REN Jianbiao, Director of EMBA Program and Associate Professor of Department of Operations Management of ACEM SJTU. The guests included Mr. WU Peizhi, General Technical Manager of 3M China R&D Center, Mr. Jason Sun,Vice President and General Manager of Ingersoll Rand Engineering & Technology Center (Asia Pacific) and Mr. LIU Guozhong, Chairman of Jiangsu Redbud Corp.

The summit brought together a group of leaders and academic elites in diverse sectors and presented a feast of ideas and insights. It has generated abundant valuable thoughts and advices on the trend of China's intelligent manufacturing. Year 2011 witnessed a successful debut summit held in ACEM, and the 2nd Global Operations Summit in 2013 has gained more attention and attendance of all circles. It has gradually evolved as a prominent platform to facilitate explorations and innovations in the operations field.