CLGO 2013 Students Visited Nike China Logistic Center
Publisher : MBA办公室 Jan.15,2014
In order to apply theory to practice and deepen the understanding of operation management and China market, SJTU CLGO 2013 students visited Nike China Logistics Center (CLC) situated in Taicang, Jiangsu Province on December 27th, 2013. CLC has 76 acres of space with 200,000 square meters construction area, making it one of the largest logistic centers in Asia. It takes charge of the China mainland logistics operation including clothing, shoes, sports facilities and Nike golf.

CLGO students were warmly welcomed and Nike manager Theresa introduced to students their sustainable development concept and measures through internal video in detail. The design of CLC adopts many innovative modern technologies, which include solar geothermal heating system, rainwater collection system and world's most energy saving and environmentally friendly picking system, taking geographic conditions and local vegetation into consideration and maximizing the energy saving design. At the same time, the picking system uses Crisplant's LS 4000 picking machine with high efficiency and more flexibility, saving about 75% energy compared with traditional ones.

Then, Nike team showed CLGO students around the CLC. There were two major buildings in Nike CLC, which stored shoes and clothing respectively, and the two buildings were connected by delivering device installed in the bridge between them. What has left CLGO students a deep impression was the high automation it has realized, when in such a large storage few workers could be found. According to distributing and picking needs, the clothing distributing floor was divided into three parts: the top floor was shelf zone with 45,000 independent codes, the second floor was automatic picking system and the first floor was packing and loading zone. The picking section used the coding system. By systematic control, it has realized rapid picking to avoid human factor error and thus increased efficiency. During the visit and frequent communication with Nike Team, CLGO students deepened their understanding of Nike CLC operation mode and its fastest 5 hour shipping time while traditional time was 2 days and its largest consignment was more than 10,000. CLGO students also discussed with Nike Team about management problems like worker's training, number arrangement and third party logistics transition, etc.

Nike CLC tour was the first company visit activity for CLGO 2013 students from which they all benefited a lot. On one hand, they learned the operation mode of Nike CLC as the industry benchmark; on the other hand, they applied the class knowledge like turnover rate, lead time, quality inspection and return process into practice and laid a solid foundation for future internship.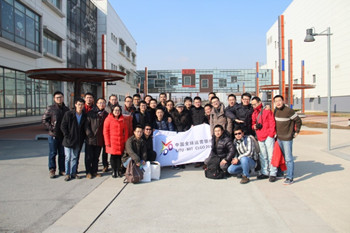 CLGO students in front of Nike CLC