FT 2014 Global MBA Ranking: Antai College Remained in Top 100 and Headed Shanghai Local Business School
Publisher : MBA办公室 Mar.05,2014
Antai College of Economics and Management SJTU held the press conference on FT 2014 Global MBA Ranking, of which Antai College ranked 77th and headed Shanghai local business schools, in Xuhui campus on Jan. 27th. Dean Pro. Zhou Lin, MBA program director Pro. Hu Haiou, IMBA program director Wang Mantian, CLGO program director Chen Xiaorong, MBA office director Wang Xiaowei, MBA office vice director Chen Jianke, Career Development Center director Huang Shujuan, teacher representative Pro. Tang Ningyu, Pro. Zhang Xinan and alumni representative Tang Liming, Zhou Peilei, Zhao Fugang, Li Jing were present at the conference, which attracted about 30 media to attend.

FT 2014 Global MBA Ranking was released on Jan. 27th. Antai College of Economics and Management SJTU remained in top 100 and ranked 77th, headed Shanghai local business schools, and the salary increase rate and employment rate (166% and 100% of each) topped the global ranking. The other two China business schools in the table were Peking University (57th) and Fudan University (83th).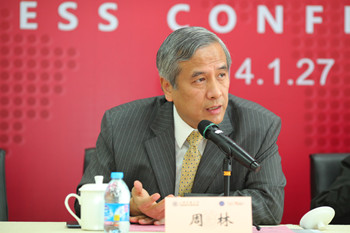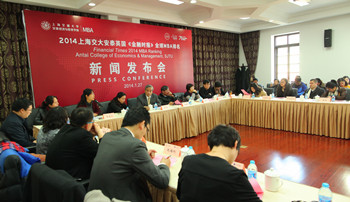 FT Global Ranking was one of the world recognized authoritative survey, ranking the three core programs (MBA, EMBA and MSC) of world famous business schools, the data of which was collected independently without school influence and the top 100 were all world renowned first class business schools. The global rankings of MSC and EMBA have already been released in September and October, 2013. Antai College MSC ranked 47th, remained in the top 50 for five years. EMBA rose to 32th, headed local Chinese EMBA. Therefore, Antai College became the only business school in China with three core programs ranking world top 100 at the same time. This proved the world leading position of Antai College in business teaching and practical area.

No.1 Salary Increase Rate and Employment Rate, Life-long Benefits for Graduates' Career
According to the report, the employment rate and salary increase rate of Antai MBA graduates within three month after graduation were 100% and 166%, which topped the table. The result was not attained by accident for sure but closely related with long time brand building and diligent hardworking. First of all, Antai College attributed to the profound culture accumulation of Shanghai Jiaotong University. With continuous development, it has advanced in internationalization over recent years and became the first business school that has passed the AACSB, EQUIS and AMBA in China and won the fame all over the world. Secondly, with high quality faculty and world leading curriculum arrangement, the graduates of Antai College were equipped with profound knowledge, abundant practical experience, innovative ideas and global business view, which were responded positively by employers.

Besides, Antai College helped students to realize their business leader dreams in various aspects like career development, practical teaching, innovation and venture education. For example, the perfect career development tutorship was set up to organize career mentor program, career development forum and so on to help students with career design; to build up deep strategic cooperation with world famous companies like Apple, Nike, Amazon, Cisco, etc. to help students with leadership, practical ability improvement and career transformation; to first promote MBA venture education in China and set up a 20 million MBA Venture Fund, establishing a perfect career platform together with VCs and governments for students and alumni.

The ranking report showed the short time employment of graduates, Antai College also focused on their long time career development. Various lifelong education programs including free top quality courses, professional venture guidance and venture fund application, brilliant forum and lectures, club exchange activities were provided to alumni for knowledge updating, experience sharing, potential business opportunity digging and friendship building. The purpose was to provide a multi-dimension improvement and development platform.

World's Leading International Study Experience, World-Recognized Faculty Members
The international study experience of Antai MBA was also highly recognized in this report, the index of which ranked 20th. Antai College has provided a "trinity" training program including international study tour, oversea exchange and double major to make sure that every student has an opportunity to expand their international view. The oversea exchange and double major lasted at least three months and cooperated with MIT, South California University, Hong Kong University of Science and Technology, Washington University and other 40 world famous business schools. From 2012 on, the international study tour designed for sparetime study was promoted and warmly welcomed. In the future, Antai College will start more study tour on the basis of US and British program.

Antai College implemented "bringing in" and "going out" strategy, working actively with world renowned business schools on faculty exchange, curriculum development, academic research and social practice. On one hand, more foreign teachers were introduced and nearly 90% MBA teaching body has rich oversea experience. On the other, professors of top business schools and senior executives of global 500 from home and abroad were invited regularly to teach or share experience. For example, CLGO, the first time to participate the FT ranking this year and sister program of MIT_LGO between SJTU and MIT, referred to MIT on its curriculum design, textbook selection and teacher training. CLGO also invited its board of review composed by professors from top business schools to share with students, teachers and partner companies, quickening the process to world top.

Teachers' educational background and academic ability were also approved, and among which FT PhD ranked 5th. In recent years, SJTU teachers headed in the publication on top international management periodicals. Subjects like finance, accounting and economics remained top 100 in QS ranking, and the operation major even ranked world 18th. Benefited from world's leading academic level, the teaching body of Antai MBA not only has profound academic background, but also rich practical experience. Now, more than 90% of them were senior executives, independent directors or in charge of cooperative program at the same time, making sure the improvement of students' practical ability.

Antai College remained in top 100 and headed Shanghai local business schools in FT ranking was a step forward to world first class business schools. In the report, its curriculum arrangement, teacher training, academic ability, company cooperation, international exchange and career development were highly recognized. Antai College will working on the idea of "solving practical problem with managing minds, solving Chinese problems from international fronts" to provide more senior talents with innovative and venture capability to move on to world top business school and contribute to the construction of China and Shanghai.