SJTU Antai College Hold Successfully Open Campus Day of Its 2014 Eyas Project
Publisher : MBA办公室 Apr.16,2014
Antai College of Economics and Management at Shanghai Jiao Tong University (SJTU Antai) has been starting to promoting its full time MBA "Eyas Project" in 2010, which is a firstly attempt in China. In this project, SJTU Antai receives its full time MBA course preparatory students, who have not met the requirements for their application years. Antai will hold the Open Campus Day to help those students to develop their career plans in advance, to make a perfect combination of working, studying, and going abroad.
A three day Open Campus Day was held successfully during April 11 to 13, 2014. This activity is organized for SJTU Antai's full time MBA "Eyas Project" in 2014. Through layers of screening, many participants from the top universities in China joined this activity, including undergraduate students, master students and graduates whose work experiences were less than one year. Contents of this Open Campus Day cover lecture from famous professor, project communication, campus visiting, outward bound and interviews, etc.

Lectures, apprehending the MBA spirit of combining learn and practice
A group of young people who have the same targets and dream gathered in SJTU Antai in the afternoon of April 11 to attend Open Campus Day for SJTU Antai's MBA "Eyas Project", in order to feel the atmosphere of Business College and approach more close to their targets of being the business leaders. Ms. Shujuan Huang, Director of SJTU Antai Career Development Center, especially trained the participants with the topic of career planning. Ms. Huang helped the participants to know well about both themselves and their future career plans, by giving a guide speech and games, to let the students to think and communicate a series questions such as what is a good career and how to strengthen self-recognition, etc.

Professor Haiou Hu, Director of SJTU Antai MBA Projects, gave a speech to the participants on April 12. He cited various authorities to the audience and successfully provides an excellent speech that the audience made very nice interaction. Professor Hu mentioned in his speech that "knowledge is power but think is power", and he gave a lively lecture about culture and morality to lead the participants to set up the right moral values and the motivation of studying, that is to realize human being's respect to knowledge in order to train the practical scientific spirits and merciful humanistic cares. The participants declared that they benefit about from Professor Hu's speech.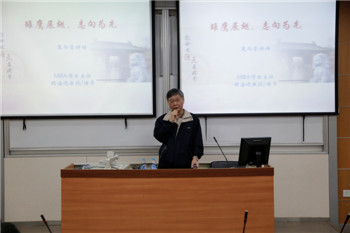 Professor Hu is giving a speech.
Project communication, setting clear future career plans
Opening ceremony for this event started in the morning of April 12, after the participants finished their breakfast. Ms. Linjiang Gong in SJTU Antai MBA office introduced in her the opening remarks to the participants about the development of SJTU Antai MBA project and its advantages in teacher resource, course design, career prospect, and she also told about the effort and achievements that SJTU Antai MBA project made in internalization, course innovation and revolution in recruiting new students.

After that, Mr. Chao Zhou, one representative of 2013 IMBA students, shared his experience in applying SJTU Antai MBA project. He introduced about characters bout SJTU Antai IMBA project including teaching resource, student structure and oversea communication. He provided also some very value suggestions on future study and career planning to the participants. In addition, Mr. Jun Yan as a CLGO student in SJTU Antai introduced about CLGO project including advantages in collaboration with MIT, feathers of combination of project management theory with practice and models of cooperating with enterprises. He shared his own experience in cooperating with US LGO project in Lion Team as well, and he wished students could combine personal characteristics with targets to invest to their future.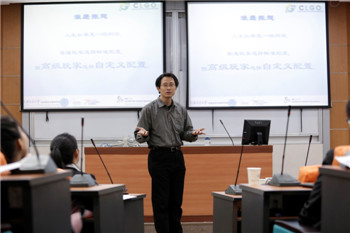 2013 students for IMBA and CLGO introduced about their projects
In the afternoon of April 12, participants visited Qian Library, which including four themes to show Comrade Xuesen Qian's contribution to Chinese aerospace industry, his spirituality, and his unusual experience to become a strategic scientists. As one of founders of Chinese aerospace industry, atomic and hydrogen bombs and man made satellite medal winners, former graduates, Comrade Xuesen Qian holds the firmly ideal faith and has highly loyalty to the CCP, and he always regards love the motherland and love the people as the highest state of life. He consciously linked together his personal ambitions with the national revitalization tightly. Comrade Qian is straight, aboveboard, careless about fame and wealth, selfless dedication, stick to the truth, rigorous truth seeking, and he is an example of outstanding Chinese patriotic intellectuals and is known as the "people's scientists". Comrade Qian's scientific achievements, academic thoughts and spiritual qualities can be regarded as the precious wealth of China, which worthy us studying, the inheriting and carrying forward forever.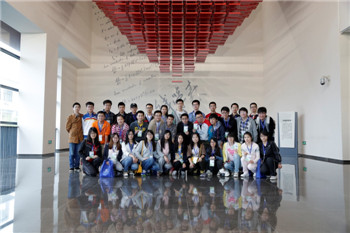 Participants visited Qian Library
During the dinner party in the evening, 8 seniors from IMBA and CLGO projects shared their thoughts about study and further career planning with the participants, which makes the members to get great enlightenment. At the same time, participants use this opportunity to discuss with each other, and they shared their own opinions, communicate with each other, and prospect their futures. The participants all have the similar experience and common ideality. Therefore, they are easily to communicate with each other. Participants said after the party that they felt hopefully to their future career and this kind of face to face activity made them to apply for SJTU Antai MBA project. They also wished to work with their clear target from then on to get more experience before they enter SJTU Antai MBA project.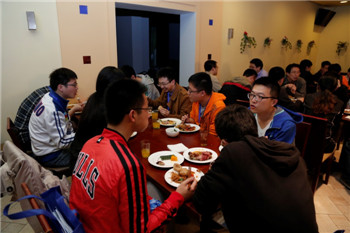 Dinner party
Outward bound, understanding the importance of team work in practice
Participants joined outward bound after they visited Qian Library in the afternoon of April 12. Two games namely Top Speed 60 Second and Message Sending, which required great team assistant and commination, make the participants to know well about their teammates, then to promote their team work and understand well about relationships between individuals and team, and whole and details. One participant said "I have heard about the word team so many times and I also expressed my idea to enhance my ability to join the team. However, I have never really realized the role of a team. This outward bound activity let me known about the definition of team. Meanwhile, it helps my awareness of positively communicating with other teammates, and it teaches me more efficient methods to communication. The afternoon, participants in our team knows much better with each other through the outward bound."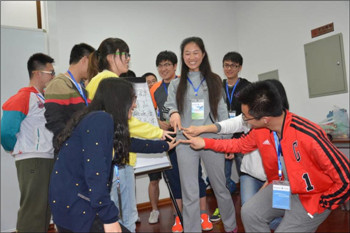 Outward bound
Interview, developing participants 'own future with SJTU Antai
Participants attended comprehensive interview for preparatory course of SJTU Antai MBA full time project, namely "Eyas Project" on April 13.Particitipants showed their solid professional knowledge foundation, strong learning motivation, clear career design and great management potential, all of which provide very deep impression to the interviewer. Successful candidates during the interview will be accepted as preparatory students for SJTU Antai MBA project, and they will attend activities such as attending forums and joining career training. They will be admitted by SJTU Antai if they pass the national examination, and they can also receive an Eyas Scholarship around10, 000 to 30,000 yuan after they are formally admitted.

Interview
A three day Open Campus Day for Eyas Project closed successfully, but it brings permanent experience to the participants. They know more friends here and set up valuable friendship. More importantly, these participants know well about the development of their future careers, and feel more confident to move to their targets as the business leaders. In addition, they will promote hand in hand, and promise to gather again in SJTU Antai three years later.