Symposium on Transformation on Traditional Enterprise Internet Successfully Held
Publisher : MBA办公室 Apr.17,2014
An excellent lecture was held on March 15 in Xuhui campus at Shanghai Jiao Tong University by Mr. Run Liu, Chairman of Shanghai Runmi Management Consult co., LTD. Mr Liu gave a speech of transformation on traditional enterprise internet. Xingeng Zhao, assistant to the dean of SJTU Antai chaired the symposium.

As a professional advisor on transformation on traditional enterprise internet, Mr. Liu used to work as the director of strategic cooperation in Microsoft. After working in Microsoft for 14 years, he left and founded Shanghai Runmi Management Consult co., LTD, and he made his full effort to help the traditional enterprises to get internet, using his judgment and experience in IT and interment areas. His book An MBA Lecture Given by a Taxi Driver and Buying a Ticket to the Antarctic in 2012 used to be best sellers in China.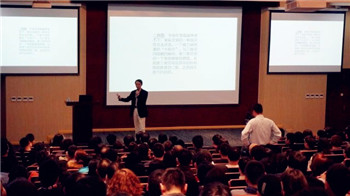 Mr. Liu began his speech with a current popular science fiction Trisome, and he employed the second foil to insinuate the current internet situation. There is a definition in Baidu to the second foil, which means a devastating attack weapon of interstellar civilization during the universe in a dark forest. And it can be used to destroy enemies by contacting a small force covered paper with a three dimensional space, which will make one dimension of three dimensional space to curl up to microcosmic. Thus, everything in the three dimensional space will get two dimensional space and destroyed. This attack is called as Dimension Reduction Attack. To make the audience understand this definitional easily, Mr. Liu took some examples, such as Wechat of Tencent, Yu Ebao of Alibaba and Xiaomi TV of Xiaomi. In his point of view, attacks from Wechat to social media, Yu Ebao to finance, and Xiaomi TV to appliance industry all belong to Dimension Reduction Attacks, whose competitors cannot strike back. Mr. Liu pointed out that essence of internet was to destroy all modes that information asymmetry existed.

After that, Liu stressed about internet might destroy the traditional enterprises though three stages. First, practicing super efficiency; second, taking users' time; third, overturning value proposition. He pointed out based on those stages that the final advantages for internet was due to the efficiency, while the final problems of the traditional enterprises is up to the organization's problem.

But how does the traditional enterprises won from the internet, which is the most important question that the participants concerns. Mr. Liu gave four strategic suggestions: first, giving up gradually the vested interest that based on information asymmetry; second, making the basic decision such as doing business for product or platform; third, increasing efficiencies for origination, business mode and technology; fourth, making reverse deduction and designing transformation path.

The speech was relatable, and every topic came from the small things that everybody familiar with. Through the graduate analyze, the discussion explained the essence and trends for the traditional enterprise internet. Many participates continued discuss their interested questions even after the lecture, and they regarded this lecture as an excellent study and they wish the knowledge would be helpful during in their practical operation.

Xingeng Zhao, assistant to the dean of SJTU Antai gave a souvenir to Mr. Liu after the lecture. The souvenir was called "Horse Stepping on Flying Swallow", which sent the best wishes to the internet developed well in the future.