MIT LGO Visited CLGO Program
Publisher : MBA办公室 Apr.17,2014
As a biennial tradition, 48 MIT LGO students and Professor Don Rosenfield came to visit CLGO program in late March this year. During the one week visit, CLGO and LGO students and teachers made in depth communication, which improved mutual understanding and deepened the friendship between each other.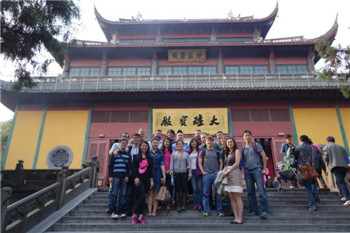 LGO delegates arrived in Shanghai at March 22nd and were warmly welcomed by CLGO with dinner party. In the following days, CLGO and LGO students took part in a variety of activities, which included tourist attraction sightseeing, company visit and forum. After visiting traditional silk craft, temples, ancient and modern architectures, LGO students and teachers had a better understanding of the roots of Chinese company culture. Three manufactory companies, Sandisk, CAT and DELL were arranged to help students learn company's internal operation process and industry development. Also, in order to improve LGO students' understanding of Chinese manufactory operation from a wider perspective, CLGO office invited Marcus Chao, Lean China founder, to give a speech on "Gold Mine Lean Applications in China". Dr. Chao's crystal clear explanation introduced the development of Chinese manufactory industry and discussed the future of Chinese operation.

During the visit, Apple, one of CLGO partner industry, invited all LGO and CLGO students to have dinner with their employees. Rob York, now senior executive in charge of Manufacturing Design in Apple, was graduated from LGO. Rob extended warm welcome to CLGO and LGO students and hoped they would join Apple after graduation. Several CLGO alumni who worked in Apple shared their experience and communicated with students face to face.

On March 26th, LGO delegates finished their CLGO tour and flew to South Korea for the rest of their international manufactory visit. Although time was limited, LGO and CLGO students and teachers deepened mutual understanding and established profound friendship, all hoping to have more opportunity to communicate and corporate in the future. At the same time, LGO students also expressed their gratitude for the thoughtful arrangements and invited CLGO students to visit MIT in June this summer.