Six Sigma Makes a Difference – Report of the 49th CLGO Forum
Publisher : MBA办公室 Apr.17,2014
The 49th SJTU MIT CLGO Forum was held in the North Building of Antai College of Economics & Management on April 1st, 2014. In this forum, Ms. Xu Nini, district supervisor of Honeywell, was invited to give a brilliant speech on "Six Sigma Makes a Difference". The forum attracted many GLGO students, as well as CLGO alumni, partner industry employees and candidates interested in CLGO program.

Ms. Xu was graduated from Peking University and then furthered her study in the University of Utah. She has 20 year working experience in EHS (Environment/Health/Safety) and now is in charge of Honeywell's EHS in 11 factories and 2 green factories to be built in China. Ms. Xu has acquired Six Sigma black belt and safety expert certification, and she has deep understanding and rich experience in enterprise safety management, program operation and six sigma theory.

During the 2 hour forum, Ms. Xu introduced the development of Honeywell from her own working experience, explained Honeywell Operating System (HOS), which developed from six sigma theory, and clarified the 5 phases of HOS. Since the application of HOS in Honeywell, the product defect rate was controlled and OTTR (on time to response) was increased. The cost control has reached expected target and the inventory was continuously improved. At the same time of expanding product capacity and controlling cost, Honeywell has reduced the operating cost and remained competitive in the changing economic environment.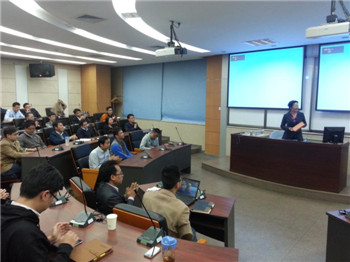 Ms. Xu is sharing experience with students.
In Q&A part, Ms. Xu answered questions in detail and discussed heatedly with students. When talking about standard operation process, Ms. Xu reminded students that standard process was not universally applicable, which was especially true in R&D and marketing department. The communication problem also needed to be noticed when applying six sigma. This forum was well received that students' understanding in six sigma was deepened.