2012 Fourth International Business School Shanghai Forum
Publisher : MBA办公室 Nov.02,2012
On Oct. 18th-19th,the openning ceremony of 2012 Fourth International Business School Shanghai Conference (IBSSC) hosted by Shanghai Jiao Tong University was held in ACEM. Tu Guangshao, deputy mayor of Shanghai, Ma Dexiu, chairman of SJTU, Zhang Jie, president of SJTU and Lin Zhongqin, deputy president of SJTU attended the forum and addressed the forum. This forum has attracted more than 200 deans of business schools from 31 countries. The speakers include 34 deans of top business schools from North America, Europe, Asia, Australia and BRICS as well as leaders of international business institutions such as AACSB, EFMD and AMBA. Zhoulin, dean of ACEM conducted this ceremony.
Taking "Business Education in Emerging Markets" as the theme, this forum has drawn extensive attention among global business schools with its theme and scale. Since the business education is experiencing a prosperous development in contrast of the struggling global economy, the need from emerging market, as in other fields, is the main driving force that leads the global development in this area. The conference discussed about the development, reform and transformation of business education of business education in emerging market, and the issues on the curriculum revolution, education methods and strategic alliance. In addition, how do business schools in Europe and America stand out in the field of education among other international business school and how do they differs from that of BRICS as well as other countries are also discussed in this forum.
Congratulating the opening of the forum and extending warm welcome to all the representatives,Mr. Tu Guangshao, the official from Shanghai municipal government, values this forum as an open and interactive platform for international communication and cooperation, which plays an active role in promoting international cooperation, cultivating more high-end talents of economic management, enhancing scientific research and innovation level and accelerating economic development for Shanghai.
On behalf of the organizer of the forum, Mr. Zhang Jie, president of SJTU also expresses his welcome to the guests. In his speech, Mr. Zhang said with the increasing importance of BRICS, education of business school expects huge potential in the historical era. Meanwhile, SJTU formulates its blueprint to become a top university in the world. He wishes this meeting not only makes breakthroughs in academic area, but also brings more globalized characteristics and a systematic perspective for researches in business school.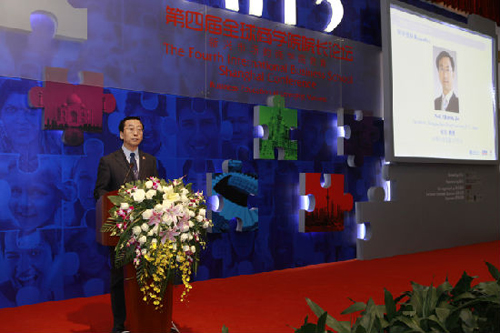 Mr. Amit Agnihotri, representative of the co-host organizer, India MBA Universe Education,pointed out in his speech that both India and China should contributes in the global MBA education for further development of business schools. He also anticipates more communication and cooperation among students and senior executives of both countries, and that both countries can have their own voice on the global stage.

In the main forum, many deans from international business schools gave keynote speeches on variety topics, illustrating latest concepts of establishment of university and education of business school that fit for the world business and management pattern in the emerging market.
This forum also consists of 2 sub-sessions, with the themes of "business schools in emerging countries: create our future" and "strategy in the emerging countries of top business schools". Several deans from privileged business schools made splendid speeches in these sessions.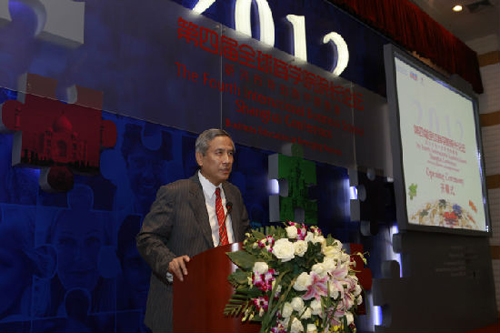 The forum had 2 special sessions late on Oct. 18th and 19th, namely The Seminar of International Ranking of Business Schools and Dialogue of deans between Sino-India business schools.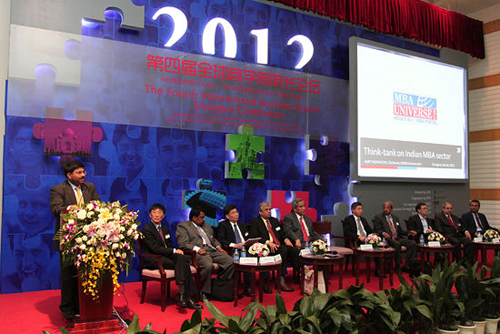 Since the first IBSSC, the biannual event has become a globalized brand, appealing to over 200 heads of business schools to attend and share their most edgy wisdom in education of management. Nowadays, this forum hosted by SJTU is already among one of the three international summits of business schools.