CLGO 2012 Governing Board Meeting
Publisher : MBA办公室 Nov.02,2012
On Oct.23rd, 2012, Shanghai Jiao Tong University CLGO (China Leaders for Global Operation) held the Governing Board Meeting on Xuhui Campus. The attendees including: Dongming, deputy dean of SJTU ACEM, Prof. Don Rosenfield, project director of MIT LGO, Prof. David Simchi-Levi, Prof. Jeff Shao, and representatives from cooperative enterprise, such as Chris Honstain, logistic manager of Caterpillar, Jian Yang, North Asia general director of Cisco, Wnhao Xiao, QA manager of Cisco, Charla Serbent, supplier quality director of Dell, Kitty Yao, deputy director of HR of Esquel Group, Richard Xing, general director of shipping and logistic of Nike and Laura Pu and Wendy Chen, general director of HR of UTC, etc.
In this meeting, project director Chen Xiaorong presented a report of the recent development of CLGO. The report said the background of most 2012 freshmen were from privileged colleges with profound manufacturing operation experience, while 2010 CLGO students have successfully completed their intern projects with favorable feedback from employers. In the report, Prof. Chen appealed to the cooperative enterprises to provide more opportunities of international intern and lion team projects to CLGO students, who can benefits a lot from such kind of oversea experience. Also, all the representatives had a discussion about the policies of open admission to international students and students from Hong Kong, Macau and Taiwan and proposed their suggestions.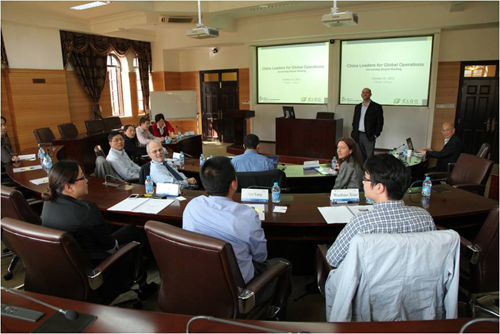 The CLGO governing board is discussing about the trend of development of CLGO

Then, representatives from cooperative enterprises shared their experiences and thoughts about CLGO students admission, intern training, company recruitment. Prof. Don Rosenfield of MIT LGO reported recent admission and employment. CLGO now plays an important role as a bridge between MIT and SJTU.

Through lively discussion on a series topic such as how to support the development of CLGO, how to innovate and how to sustainably add value for cooperative enterprises, this meeting achieves a clear orientation for the next step of development.