2012 CLGOer visited NIKE China Logistic Center
Publisher : MBA办公室 Dec.27,2012
  On Dec. 14th, 2012, Shanghai Jiao Tong University 2012 CLGO students visited Nike China Logistic Center(hereinafter referred to as NIKE CLC) in Taicang, Jiangsu province. Covering an area of 200,000 square meters, it costs 170 million investment and is NIKE's largest logistic center in Asia as well as the world's 2nd largest logistic center. NIKE CLC adopts state-of-the-art equipment and technology and responsible for the distribution of clothes, shoes and sports outfits.

  The logistic director Ms. Pan Qi greeted the CLGO students. After a brief opening remark, Ms. Pan introduced the concept of low-carbon and green architecture of the CLC building. By using geothermal air conditioner, solar heating system, smart building management, photo sensor, motion sensor and highly efficient power generation, the NIKE CLC building can reduce an annual emission of 4200 tons of carbon dioxide and save 4 million kilowatt-hours of electricity. Its awareness to environment earned itself the LEED platinum certification.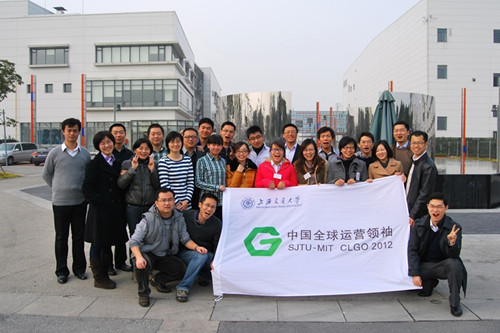 Later, the director elaborated on the precise operation process of NIKE CLC: the warehouse consists of encasement area and pallet area. After receiving the orders, the warehouse management system (WMS) sorts the products in the warehouse into different areas according to the order amount and then the contained products are delivered to the vans. Besides the four steps of goods receiving, storage, sorting and delivery, the logistic process also includes customer contact (to confirm the amount, delivery time and storage position), delivery plan design and data storage (to record the corresponding storage and delivery data and confirm it with the customers). To assure consistent enhancement of the NIKE WMS standard and quality is the core of the intellective and modern NIKE CLC.
  The CLGO students visited the clothing/shoes warehouse which has 3 storeys: independently coded racks, automatic sorting system and packing/loading district. According to Ms. Pan, the NIKE CLC, with over 100,000 goods pallets and a high efficient sorting system which processes 6,000 containers per hour, can upload/unload 79 container vans at the same time and the annual throughput is 240 million pieces. While it takes only a few hours from ordering a product in the store to delivering it, NIKE CLC can satisfy all kinds of requirements from the customers.
  It was the first time for 2012 CLGO students to attend partner corporation event. Seeing the operation process of NIKE CLC on the spot, students were deeply inspired through such experience and had a great opportunity to combine the knowledge to the reality.