CLGO Series Report Two: Nike Project
Publisher : MBA办公室 Apr.01,2013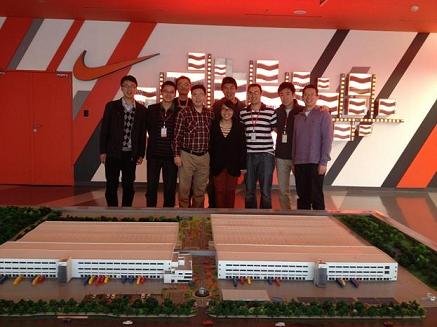 Lion Team Project has always been an opportunity for CLGO and LGO students to learn from each other, the attendee could learn about cross-culture communication、cooperation and many other things. There was no exception this year, the project came as planned in March. Three students from LGO and four students from CLGO came together for Nike.

The seven students and two experienced coaches from Nike worked with each other in Nike CLC(China Logistics Center) for five days, which was a precious memory for all. CLC was one of the most advanced DC in China and world, with high automatic equipments. Students learned about the concept of lean production, getting familiar with the operation processes in that advanced DC, practicing time observation and trying to find out the opportunities of improvement in that short five days.

For LGO students the five days was of special meaning. This five-day is a great opportunity for them to transform the theoretical lean concept into practical practice, also a good chance to learn more about Chinese culture and food, spicy food is their favorite now. They were impressed by the hospitality of CLGO students. CLGO students' hard-working and intelligence also impressed them greatly. "I think CLGOs are just as sharp, if not sharper than LGO students", just as Brian said.

For CLGO students, this short cooperation experience show them the mien of MIT students, show them the rigorous logic of world's top university, which was a precious experience. At the same time, this is also a good chance for students to learn about world's top companies- Nike. Nice coach Max and Steve gave exceptional support and assistance. Everyone in Nike is so nice and cooperative, which impressed all.