2014 SJTU Antai MBA Spring Study in UK, Series Reports of Cambridge University
Publisher : MBA办公室 Apr.18,2014
On March 30, an oversea study group of 53 students and teachers at Antai College of Economics and Management at Shanghai Jiao Tong University (SJTU Antai) arrived at Cambridge University after a 12 hours flight to begin their study in UK during the next 9 days. Cambridge, where the Cambridge University located, is the capital city of Cambridgeshire and is called as The Only University Town in UK. With its flatland, Cambridge has a river flowing from west gate to northeast and goes for Ouse River. The city developed from Cambridge University set its first Peterhouse College in 13 century, with beautiful environment and famous green grassland such as Jesus Lawn, Marx Lawn and Sheep Lawn. There is a bronze statue in the entrance of Cambridge, in memory of its students who sacrificed during two world wars.

Cambridge is regarded as university in city, compared with Oxford's city in university. Cambridge University has 31 institutes, which educated more than 60 Nobel Prize winners during its 800 year history. Cambridge University is proud of its science and industry. For example, Trinity College used to have Newton, Bacon, and over 20 Nobel Prize winners and 6 Prime Minister of UK. Different institutes lined in Ouse River, such as King's College, Queens' College, Trinity College, Church of Great St. Mary's and Fitzwilliam Museum, etc. Institutes in long history and classic buildings located everywhere in Cambridge University, such as its tall and beautiful campus, solemn church, and ivy-draped red brick buildings.

The oversea study group lived in Corpus Christi College at Cambridge University, which is only institute that built by Cambridge citizens in 1352, in memory of Holy Jesus and St. Mary.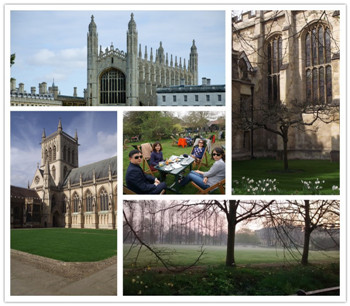 Attending lecture from famous the professors
Students in the oversea study group have been expecting to attend lectures from the famous professors at Cambridge University. The second day after they arrived, famous Prof. Raghu Rau gave a lecture on behavioral finance and financial market valuation. He is the world famous professor in finance, and his teaching and studying areas include company finance, market efficiency and behavioral finance. Prof. Rau used to be chairman of Barclays Capital, which is the greatest hedge fund company and managed 2 trillion dollar capital. In addition, he also used to teach in UCB and UCLA.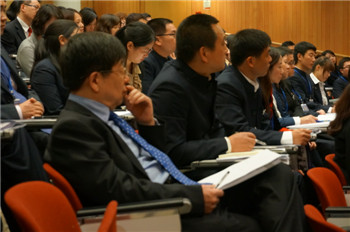 Prof. Raghu Rau introduced six definitions in classic financial theory, including NPV, investment portfolio and CAPM, capital structure theory, derivative pricing, and asymmetric information and market efficiency. After that, he focused on market efficiency and analyzed market feathers and models of weak form efficient, semi strong form efficient and strong form efficient. Afterwards, he told about cases and used vote games to explain behavioral finance, by analyzing the vote results and the psychological reasons of the voters, which receive very good effects to the audience.

Prof. Stelios Kavadias gave another lecture about how to select the correct innovation and project portfolio. He worked as the associate editor of Department of Entrepreneurship and Innovation, and editor of R&D Department at Management Science and he is in charge of developing new products and manages the product procedure in Department of project management. Prof. Kavadias is the academic director of GE energy project of Huang Executive Education Center at Georgia Institute of Technology, where Prof. Kavadias provides terminal public courses and customizes innovation and project management course for senior executives. He wrote case studies through the cooperation with big companies in many areas. Prof. Kavadias pointed out that there might be different results in analyzing portfolio management because that the different analyzing teams have individual bias. Therefore, his suggestion was that the most things in management should be reduce or even remove those biases. Prof. Kavadias's ideas were accepted by the students and they also discussed enthusiastically during the question session.

Finally, Prof. Jochen Rund from Judge Business College at Cambridge University taught an excellent lecture, with a topic of manages the unknown. There is something that we realized that we know them, and we realized that we do not know them. However, the terrible thing is that there is something that we have not realized that we do not know them. The purpose of management is to make the unknown to become known. Most of contents in Prof. Rund's lecture are unpublished research findings, and those hot researches made students quite excited.

Visiting famous Silicon Valley
The oversea study group visited Cambridge enterprises, belonging to university operating company. Shirley Jamieson introduced about the history and mode for the Cambridge University's company. There are more than 1,500 university operating technology companies in Cambridge, and about 57,000 people are involved in these companies and the gross income is more than 1.3 trillion pounds. There are three kinds of university operating companies. The first kind is the technology transformation department, which supports researchers in Cambridge University for their science and technology commercialization, patent application and maintenance, scientific research funds, patent license transformation and setting up new companies. The second kind is the consultation service department, which provides professional suggestions for researchers in Cambridge University; helps the extramural research organizations and enterprise to use the research facilities in Cambridge University with the related contract negotiation, cost calculation and pricing, make insurance clauses, and arrangement of using the facilities. The third kind is the funds department, which engaged in helping the Cambridge University's technology with entrepreneurship, finding angel capital and early investors, and providing funds. Those Cambridge enterprises bridge many research projects in Cambridge University and the industrialization of the transition.

After that, the group moved to St. John's Innovation Center, where Dr. Alex Smeets, Director of the concil met us. St. John's Innovation Center located together with Cambridge Science Park and Cambridge Business Parks. The center covers 6000 square meters and is divided into various areas, from 10 to 500 square meters, which is used for different entrepreneurs. Dr. Smeets told us that this center belongs to St. John Institute in Cambridge University, and the center mainly works on non chemical technology research and development as well as making enterprises. This center was built in 1987 and has already developed for 21 years, whose original purpose is to making enterprises. St. John's Innovation Center provided enterprise's launch service for its assigned individuals and small groups with registration, financial support, legal consulting, and cheap office. The center also allows many individuals to put their registered location at the center and provides telephone, internet and mail service. They also rent cheap meeting room to the business use.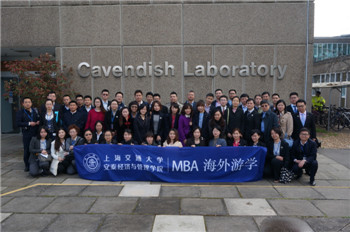 Visit the campus to touch the vast history of Cambridge University
Zhimo Xu wrote in his book Smoking and Culture that,I dare not saying how much knowledge the Cambridge gave or taught me. I dare not saying that one could be changed or improved after entering the Cambridge. What I dare saying is that in my point of view, the Cambridge open my eyes and gave me intellectual curiosity, and it gave me my self-awareness.

An ordinary guest may finish visiting Cambridge within a day. But one can touch the spirits only if he stays there quietly for few days. The group is touched and broadened their views during their 4 days staying Cambridge.

The students also visited King's College and St. John Institute. As one of the most famous institute in Cambridge University, King's College was founded in 1441 by King Henry VI, where the name was originated. Many famous people such as Keynes, Brooker and Zhimo Xu had studied here. St. John Institute is the second largest institute in Cambridge University, whose students' number follows Trinity College. There is a famous bridge that connects the third courtyard and the new courtyard, namely Bridge of Sighs. Both India's Prime Minister Manmohan Singh and Chinese famous writer Yong Jin are alumni from this institute.

In addition, the oversea studying group also attended the tradition activity, called Punting on the River Cam. Cambridge University is famous in many areas, such as its time honored histories and cultures, and it's taught many famous persons. Especially to our Chinese, the famous poet Zhimo Xu made such nice poetic and artistic description to the Cambridge. The group visited the Gothic architecture, and came to this Cambridge. They touched the golden willow, stepped the green grass and got amazed at this rainbow.

The group also visited Fitzwilliam Museum at Cambridge University, where they met authentic work of Monet, Mattis, Picasso and Rubens. We also came to Gran Chester to enjoy a typical British afternoon tea, and then joined a gracious Scottish dance party. The abundant culture experience also gave the members good memories to Cambridge.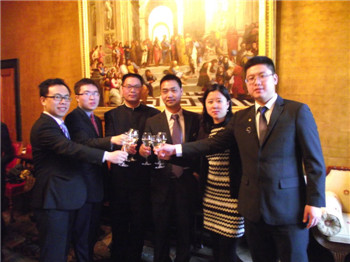 On April 3, the group kept their journeys, longing for Oxford and London. However, Zhimo Xu's quietly elegant and misty farewell poet appears,

Gently I walked away, just as I come lightly; I beckon with my hands, to the rosy clouds in the western sky.

Written by Ying Chen M1212096
Photo by Xiaofeng Qiu M1212098, Wei Li M1212097