First US Education Tour of Antai MBA Finished Successfully
Publisher : MBA办公室 Nov.01,2012
From September 27 to October 7, 2012, Antai MBA of SJTU organized students for the first time to conduct an education tour to the east United States. On this 10-days trip, 37 ACEM MBA students, headed by Prof. Yu Leng and Prof. Liu Tao, visited 6 top universities, attended courses of privileged professors, visited 4 major cities which are economic, historic, cultural and educational centers of the US.
Yale Class: awareness and use of human irrational behavior in market economy
On September28, Keith Chen, professor of Yale University, revealed human behavior and market consumer behavior from a unique perspective for our MBA students. Professor Keith thought that people were often irrational which contrary to conventional economics, and thus provided a unique perspective for the study of market behavior. His rich case and interactive teaching methods attracted the students, giving them great inspirations. Meanwhile, students' positive performances impressed the professor very well.

After the class, the students toured around the campus of Yale University, including Yale University Art Gallery, Yale Center for British Art, Ingalls rink, EzraStiles College and Morse College, the Department of Arts and Architecture Building.

Harvard Class: grasp the general trend of economy and the development of corporate strategy
From September 29 to 30, the tour group attended the classes of Professor Richard N. Cooper and Professor Ramon Casadesus-Masanell in Harvard University in Boston.
Professor Richard, former U.S. Deputy Secretary of State, used to assist seven presidents of the United States, and now serves as dean of Yale University. He titled "global economic trends and the impact of China" to give our students an easy analysis and interpretation of the impact on American economic from 3 main factors: the American economic situation and real estate, bank interest rates and oil prices. Lastly, he spoke about US-China relations, and thought that the relations between the two countries would have a good development.

Mr. Ramon, a well-known Harvard Business School professor and an expert in corporate governance and strategy, spoke on "Corporate Governance and Corporate Strategy", leaving our students a deep impression. The professor explained his understanding of Porter's five forces model. He interacted actively with the students, which maintained the classroom a lively discussion and warm atmosphere. He went from knelt to jump, until the station on the table, his enthusiasm and charisma as a world elite professor strongly affected the students.


West Point Class: how to cultivate the leadership

On October 1, all members came to the prestigious West Point, which cultivated 2 American presidents and 4 five-star generals.
Colonel Sean Hannah, taught our students "individuals and organizations leadership and leadership training "courses. The most important matter of West Point is to develop character of the participants, so dose enterprise. If you can develop a qualified team, you will be able to overcome one after one difficulty.

Columbia University Class: trend of Sino-US relations

On October 5, in the global economic center of New York, the education tours went to Columbia University to take a lecture of a well-known US-China relations expert, Columbia Professor of Political Economy Lv Xiaobo "trend of Sino-US relations" course, which gave the students a deeper understanding of the development of Sino-US relations.

City Tours: cultural city of Boston, historic city of Philadelphia, political center of Washington, economic center of New York

Along the trip, our group had an insight of the Freedom Trail in Boston, visited the memorial of the Independent War in Philadelphia, pried into the White House in Washington, enjoyed the downtown night scene in New York, pictured in front of Former Presidents of United Nations, reached the world's financial heart - Wall Street, overlooked the symbol of the United States - the Statue of Liberty. The city visits gave them a chance to infiltrate the city.
The 10-days tour strengthened students' understanding of the prestigious universities and theoretical knowledge of MBA, and also strengthened the friendships between students.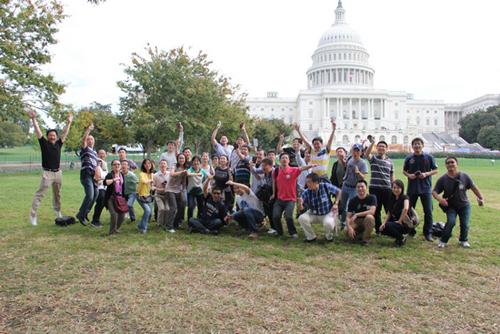 Introduction of Oversea Education Tour of Antai MBA

In order to help the students to fully understand the foreign advanced management experience, feel the impact of exotic culture exchange, Antai MBA program starts to annually organize MBA students to participate in oversea education tour projects according to the students' demands. As an elective course, overseas education tour project includes access to leading business schools, close communication with the internationally renowned professors, corporate visits as well as city visits, which make the students well understand the exotic geography, history, culture, and life.