Antai Attended QS World MBA Tour
Publisher : MBA办公室 Dec.18,2012
  Shanghai Jiao Tong University Antai College of Economics and Management has witnessed a growing international ranking of its MBA program in recent years, and in this year it has climbed to top 3 in China's Best MBA Ranking by Manager magazine.On the purpose of expanding the international market and raise awareness of its brand name especially in Asia, Antai MBA attended the QS World MBA Tour in November 2012 in 6 cities around east and south-east Asian: Seoul, Taipei, Jakarta, Singapore,Kuala Lumpur and Bangkok.
  QS World MBA Tour is a worldwide influential business administration education exhibition which opens two rounds a year in nearly 50 cities around the world. The exhibitors include prominent excellentbusiness schools all over the planet. This round of tour attracts the Boston University School of Management, The George Washington School of Business,INSEAD, IMD, IE, the NUS School of Business etc. Many well-known domestic business schools such as CEIBS, Peking University Guanghua School of Management,Tsinghua University School of Economics and Management, SAIF, Fudan UniversitySchool of Management, Hong Kong University, etc.also attended in the QS Tour.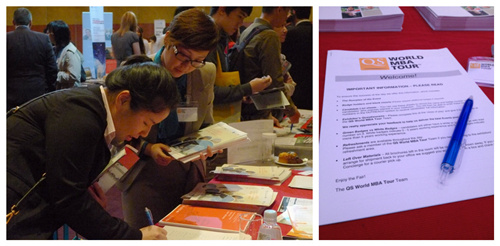 In the exhibition, a face-to-face communication is enabled between Antai and the QS candidates. Many of them had showed their interest in Shanghai Jiao Tong University Antai MBA before the event and they focused on Antai's program because of its notability and high quality. Most questions are given to the issues of admission reform, curriculumstructure and graduates salary increase. Antai's staff answered their questions by explaining the strength of the program in these aspects, and shared their experiences in MBA education.


  Provided with a great opportunity to have a close contact with Antai MBA by the QS Tour, the candidates have a better understandingof this program while receiving updated information and data they wanted most. Meanwhile,Antai MBA stands out among the forest of business schools with its unique characteristics and high quality. The brand expansion effect brought by the exhibitionwill definitely allure more international students to pay their attention onAntai MBA.