The Opening Ceremony of 2012 MBA Program in Shanghai Jiao Tong University Singapore Grad School
Publisher : MBA办公室 Dec.26,2012
  Shanghai Jiao Tong University Singapore Grad School hosted the opening ceremony to welcome the 2012 MBA students. Miss Zhu Hong, the MBA director of SJTU Singapore Grad School presided over the ceremony. The attendees including Professor Zhao Xu, the deputy dean of SJTU Antai College of Economics and Management, Doctor Chen Guohui, the deputy dean of Nanyang Technological University Business School, Professor Wu Ruiming of SJTU ACEM and Mr. Li Panfeng, the alumni of Antai MBA and director of Singapore Runde Engineering and Technology Company. They spoke in the ceremony and congratulated the freshmen.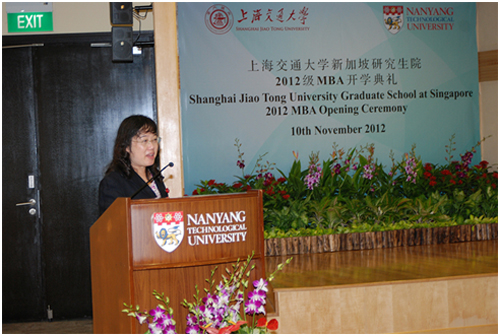 Professor Zhao Xu extended her sincere expectations to the new students in the speech. In retrospect to the 116-year-long history of Shanghai Jiao Tong University, She encouraged the students to inherit the renowned tradition of the school and endeavor for the dream of both themselves and their nations.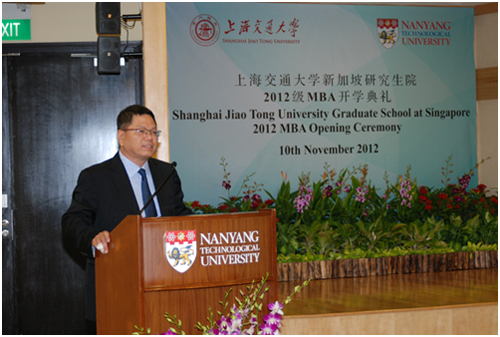 Doctor Chen Guohui represented NTU to give his good wishes. By summarizing the cooperation with SJTU in the past ten years, he praised both school for the excellent faculty members and good faith in the combined efforts for the MBA program which has benefited over 300 graduates.

  Professor Wu Ruiming, on behalf of the faculty, shared his experience in teaching for the program, giving freshmen great inspiration. By comparing the study of MBA as a mountain, he said only one who climbed over all the difficulties can have the chance to appreciate the splendid scenery at the pinnacle. Also, students need to learn to coordinate the relations among personal life, study and work.
  Mr. Li Panfeng shared his study experience in SJTU Singapore Grad School with the new students and wished everyone harvest great achievement in the MBA program. Mr. Wei Dong, as the representative of the freshmen, expressed his expectation to build a fraternal relationship among classmates with total enthusiasm and confidance, and pledged to bear the motto of SJTU in heart.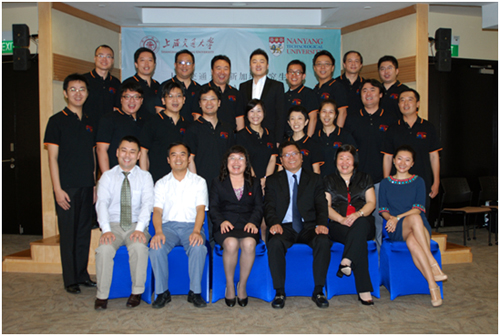 In the ceremony, all the guests were gifted class uniforms originally designed by the freshmen. In the end, students presented a spectacular performance to commemorate the brand new beginning of their new life.