Professor Zhang Xiang Visited Shenzhen Education Center
Publisher : MBA办公室 Mar.29,2013
On Jan. 17th, 2013, Professor Zhang Xiang who is honorary president of Antai College visited Antai MBA Shenzhen Center. With his legendary experience and profound knowledge, Professor Zhang made a speech themed on "Break Out from China Manufacture to China Service".
Professor Zhang Xiang used to work as national vice commerce minister and secretary of Boao Forum for Asia. He also held a longtime post in enterprise, academic institution and government. During his term in the Ministry of Foreign Economic Relations and Trade, he was responsible for policy studies, covering trade affairs, technology trade and international economic trade.
Based on practical management experience for many years, Professor Zhang had insightful understandings on service economy. He analyzed this issue with typical cases including learning from practice, reflecting and developing.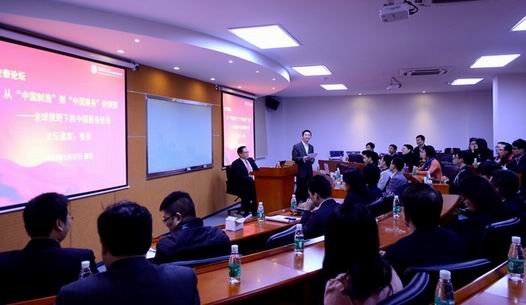 At the beginning of the speech, he pointed out that manufacture business cannot be ignored and need transformation instantly. As strategic direction, transformation will benefit Chinese economy with stable and rapid development.
Then, he presented the importance of longtime macroregulation. Especially considering the current situation of Chinese economy, simply depending on shorttime regulation of finance or monetary police cannot work anymore. Economy would get worse and restrict the development if industrial structure remains the same. Professor Zhang regarded service economy transformation as a great revolution in technology, operation management and business model. Meanwhile, he believed that system and marketing mode was the lifeline of service economy. Finally, he expounded "How to develop service industry" from marketization, internationalization and knowledgeablization aspects.
During the interactive session, professor Zhang communicated with students and schoolfellows freely. For the bottleneck of manufacture in Dong guan, he made a comprehensive and deep analysis. Students in Shenzhen Center benefited a lot from this speech and had a brand new reflection on service economy. In 2013, Antai Shenzhen Center will organize more speeches and forums, welcome to apply online.