CLGO Series Report Three: Boeing Project
Publisher : MBA办公室 Apr.08,2013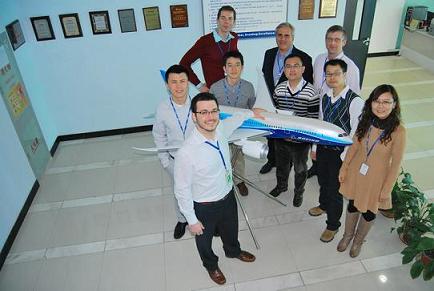 From Mar. 18th to 23rd, the Lion Team has visited Boeing Tianjin Composites Co., Ltd to conduct the Boeing project. This is the first time that CLGO and LGO students get together and work on a project face to face. The backgrounds of Lion Team members are diversified, including engineering, manufacturing, purchasing, R&D, military and etc. Everyone has opportunities to learn from others, so it is fantastic.
Before the site work in Tianjin, CLGO and LGO members have worked together by phone and Skype for two months. Many investigations and learnings of aircraft components manufacturing have been done. When the team arrived in Tianjin, all the members were familiar with the products and manufacture of Boeing.
In early stage, the Lion Team made a plant tour in BTC and paid some time on the observation of manufacturing process. It gave us a chance to match the knowledge we have learnt to the actual status of BTC plant. Then, we interviewed the management, engineers and workers about the issue to collect enough information. Further, we analyzed all the information collected from plant tour and interview to define the issue and found out the root causes. During project, we applied the knowledge learnt from CLGO/LGO courses, consulting frameworks and project management method. Finally, we made a formal presentation to the top management of BTC to show our findings and the issue we defined.
In the one week site work, we have received praise and recognition for the job well done from BTC top management. And also it is a wonderful experience for both CLGO/LGO students, we could know each other better and gain friendship.