IMBA Open Class-Operations Management
Time
Location : Shanghai
Shanghai Jiao Tong University, Antai College of Economics and Management (SJTU ACEM) is widely recognized as one of China's leading business colleges, and draws upon its century-long legacy of academic leadership in China. Today, Antai's MBA programs continue to receive extensive domestic and international recognition. Antai's MBA was ranked 55th overall in the highly-recognized Financial Times 2015 Global MBA Ranking, and has improved from 77th in 2014. And the graduates employment rate and salary increase rate topped again in the list.. Additionally, Antai was the first business college in China to be triply accredited by AACSB, EQUIS, and the Association of MBAs. Domestically, Antai is consistently ranked among the top four business schools in China by major business school ranking publications.

Antai offers both a full-time International MBA (IMBA) in English, and part-time MBA programs in Chinese. The Antai IMBA offers classes taught completely in English, and weekly Chinese classes are offered free of charge for three hours per week. Antai professors are respected experts in their fields, with rich experience in top universities and corporations around the world. They provide students within an international perspective while focusing on China, and integrate elements of Chinese and Western culture and business practices through case studies and group projects dealing with both international and local businesses. Antai IMBA students come from a variety of countries and backgrounds, making for a globally diverse cohort. Students may also participate in semester-long exchange to one of our many partner schools around the world.
Open Class Topic: Operations Management
Lecturer: Professor Vinod Singhal
Time: 8:30am on April 6, 2015
Venue: Xuhui Campus, Shanghai Jiao Tong University
Reservation: Please click "Join Us" above or scan the QR code below.
Tel:86-21-52302513 E-mail: askmba@sjtu.edu.cn
Lecturer Background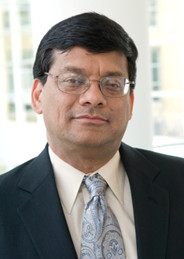 Vinod Singhal is the Dunn Family Professor of Operations Management at the Scheller College of Business at Georgia Institute of Technology. He is the Associate Dean for MBA programs, and Area Coordinator for Operations Management. He received his Ph.D. from the University of Rochester in 1988. His undergraduate major is in Mechanical Engineering and graduate major is in Business Management. Prior to joining Georgia Tech in 1989, he worked for three years as a Senior Research Scientist at General Motors Research Labs.
Vinod's teaching interests include operations strategy, total quality management, supply chain management, and technology justification. His research has focused on the impact of operating decisions on accounting and stock market based performance measures. His research has been supported through grants from the US Department of Labor, National Science Foundation, the American Society of Quality, and the Sloan Foundation. He has published extensively in academic and practitioner publications and has been invited to present his research at nearly 100 practitioner conferences and 80 universities in 40 different countries. His research has been extensively cited in the media including Business Week, The Economist, Fortune, Smart Money, CFO Europe, Financial Times, Investor's Business Daily, and Daily Telegraph.
Vinod is a Departmental Editor of Production and Operations Management, and Associate Editor of Journal of Operations Management, Management Science, and Manufacturing and Service Operations Management. He is a member of the editorial boards of IEEE Transactions, Operations and Supply Chain Management: International Journal, and Quality Management Journal. He has served on the Board of Examiners of the Georgia Oglethorpe Award, Bell South's President Quality Award, and the Baldrige Board of Examiners. He is frequent presenter at various national and international academic and practitioner conferences.
Course Description
Operations management (OM) is defined as the design, management and improvement of the systems that design, create and deliver the firm's primary products and services. Understanding the role of operations functions and its impact on the competitiveness of the firm is an important part of any manager's or consultant's training. Such training includes tools that help the manager to ensure that resources are used as efficiently as possible, to make the right call between competing objectives and to redesign operations that will improve the performance of the system along multiple dimensions. Operational issues could be summarized as designing, acquiring, operating, and maintaining facilities and processes; purchasing raw materials; controlling and maintaining inventories; and providing the proper labor needed to produce goods or services so that customer expectations are met.
This course is intended to be a survey of operating practices and models in both manufacturing and service oriented firms. We will examine the theoretical foundations of operations management and how these principles or models can be employed in both tactical and strategic decision making in firms. It is intended to provide managers in all functional areas with sufficient knowledge to make informed, "total business decisions" and to introduce standard terms and concepts for communications with operating personnel.
Scan here:
QR Code