IMBA Open Class-Project Management
Time
Location : Shanghai
Shanghai Jiao Tong University, Antai College of Economics and Management (SJTU ACEM) is widely recognized as one of China's leading business colleges, and draws upon its century-long legacy of academic leadership in China. Today, Antai's MBA programs continue to receive extensive domestic and international recognition. Antai's MBA was ranked 55th overall in the highly-recognized Financial Times 2015 Global MBA Ranking, and has improved from 77th in 2014. And the graduates employment rate and salary increase rate topped again in the list.. Additionally, Antai was the first business college in China to be triply accredited by AACSB, EQUIS, and the Association of MBAs. Domestically, Antai is consistently ranked among the top four business schools in China by major business school ranking publications.

Antai offers both a full-time International MBA (IMBA) in English, and part-time MBA programs in Chinese. The Antai IMBA offers classes taught completely in English, and weekly Chinese classes are offered free of charge for three hours per week. Antai professors are respected experts in their fields, with rich experience in top universities and corporations around the world. They provide students within an international perspective while focusing on China, and integrate elements of Chinese and Western culture and business practices through case studies and group projects dealing with both international and local businesses. Antai IMBA students come from a variety of countries and backgrounds, making for a globally diverse cohort. Students may also participate in semester-long exchange to one of our many partner schools around the world.
Open Class Topic: Project Management
Lecturer: Professor Emmanuel Monod
Time: 8:30am on April 27, 2015
Venue: Xuhui Campus, Shanghai Jiao Tong University
Reservation: Please click "Join Us" above or scan the QR code below.
Tel:86-21-52302513 E-mail: askmba@sjtu.edu.cn
Lecturer Background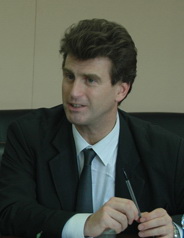 Emmanuel Monod, PhD, Université Paris-Dauphine (France) is currently visiting professor at Antai College of Economics and Management, Shanghai Jiao Tong University (China). He was vice-president of the AIS (Association for Information Systems) from 2003 to 2008 and conference track chair (or professional development workshop co-chair) for international academic conferences as ICIS, ECIS and AMCIS.
He has previously held executive positions during 10 years in IBM (France and USA), France Telecom and the French Company of External Trade (COFACE), depending of the French Ministry of Finance.
At University of Paris Dauphine he created and was the director of 5 academic programs: the dual doctorate-PhD program with Georgia State University (Atlanta, USA) (during 10 years), the Master of International Business (M2 MIB) (during 8 years), the Master of New Communication Technologies and Tourism (M2 MCT) (during 4 years);, the Executive Master of Business in Luxury (EMBL) (during 2 years) and the EDBA (Executive Doctorate in Business Administration) (during 7 years). He is now board member of the EDBA Council in Atlanta (USA)
He is currently associate editor for Information Systems Research (ISR) and editorial board member of Information Systems Journal (ISJ), Database for Advances in Information Systems and Information Technology and People. He was previously associate editor for Communication of the AIS (CAIS) and Journal of the AIS (JAIS). He published in Information and Organization, Information Systems Journal (ISJ), European Journal of Management (EJM), European Journal of Information Systems (EJIS), Communications of the AIS (CAIS) and 3 French journals recognized by CNRS (French equivalent to NSF): Systèmes d'Information et Management (SIM), Annales des Telecommunications and Réseaux (networks). He was guest associate editor for MISQ (Management Information Systems Quarterly) and guest editor of a special issue of ISJ (Information Systems Journal).
Course Description
After the completion of this course, participants will be able to manage projects in corporations from end to end including project definition, project communication, project planning, project documentation, project analytics and project negotiation.Participants will experiment diverse methods, techniques and tools, including:
1. Communicating during projects with NLP (Neuro-Linguistic Programming) technique
2. Defining projects with PDR (project definition report) tool;
3. Obtaining Executive Mandate and Support
4. Leading change with CMR (Change Management Roadmap) Method;
5. Documenting projects with PMP (project management plan) tool;
6. Analyzing projects with PMI (Project Management Institute) diagrams and tools;
7. Prototyping systems with RAD (Rapid Application Development) Method;
8. Negotiating projects with PNM (project Negotiation Method) Method.
Scan here:
QR Code